New World, same Islamic Relief
As the world embraced the new "normal" and the concept of lock-down became a part of everyday life, so too came the opportunity for Islamic Relief to step up and shine. On the front line and behind the scenes, our volunteers were eager make a difference and ready to help those in need. We, seized the moment and offered assistance to those most vulnerable in these strange, scary times. From the elderly to the orphans, schools, Madressahs, Masjids and homes, our wave of blue shirts spread like a sea of tranquility in an otherwise chaotic world. We ventured into new territories to touch the lives of complete strangers, doing so only for the pleasure of Allah and in the hope of instilling ease within the hearts of those we've met.
How apt that the colour blue symbolizes calmness and peace, as one look at those distraught faces is enough to realise that these emotions go a long way. It's the hope of ensuring those in need can sleep with a smile on their face, even for a day, which allows us to continue to do what we do. Or perhaps Muhammed Ismail, local community fundraiser, sums it up best:
"For me, it is about unity. Seeing that people of different ages, shapes, sizes and colours, all come together when humanity calls, no matter how tough the situation may be."
The Covid-19 Pandemic meant that many volunteers had to step out of their comfort zone and come together as a team to help those less fortunate. Being able to extend oneself during such an uncertain time is, in itself, the ultimate indication of the sincerity of their actions.  The fact that the Holy Month of Ramadhan was upon us simply enhanced the feelings of honour and gratitude within us volunteers. It also allowed us to better appreciate how fortunate we were; able to carry out Allah's work in His most blessed month.
"Being able to go out with Islamic Relief to some of the most vulnerable communities has been an unforgettable experience that has softened my heart and created a sense of urgency within me to continue doing as much as I can to help" reflects  Imaan Laher
Islamic Relief places great emphasis on the involvement of each and every member of the community, and to see the team grow inspires feelings of pride and gratitude. The team has a strong core filled with young, passionate and dedicated volunteers. Why? Because in the words of Zaheer Rajah, our esteemed community leader, "our Focus is our youth, these are our future leaders, and to build on this and to instill the correct values within our community, it needs to start with the youth, it needs to start NOW." In simple terms, the foundations of a strong youth allows us to expand upon the values of Sincerity, Amaanah and Social Justice, creating a community with strong ethics, morals, and principles.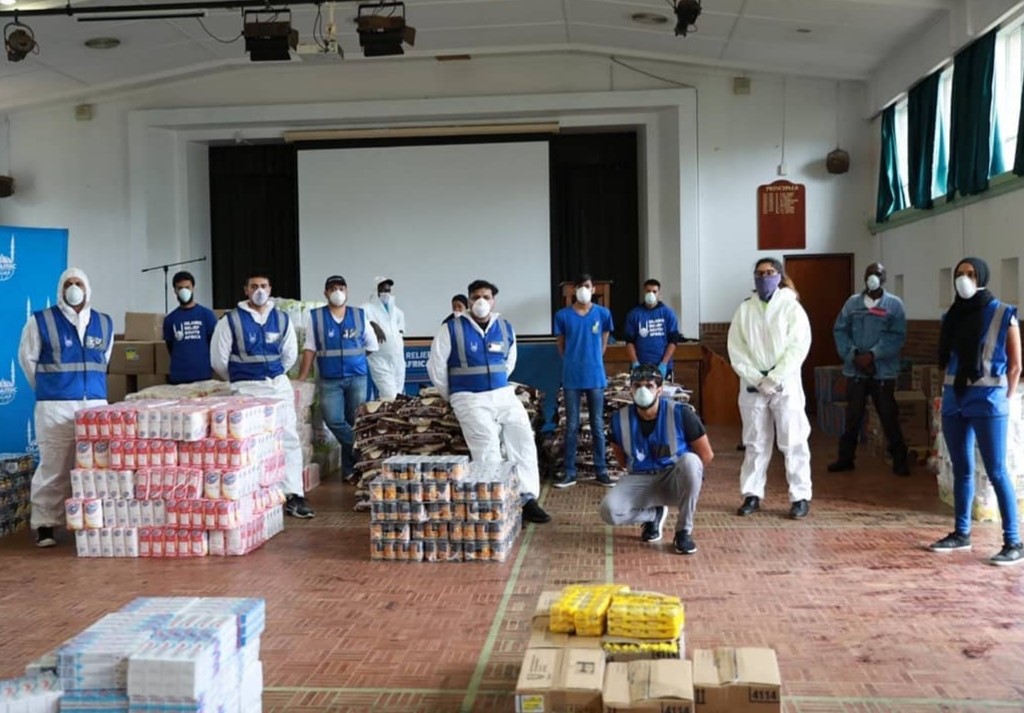 What does it mean to be part of Islamic Relief?
Being part of Islamic Relief means being part of a family and being treated as family, no matter what role you play. It means being recognised for your efforts, as well as being valued for giving your time and your sacrifices. We are so honoured to be able to serve humanity, as "serving humanity is a responsibility of each and every one of us", says Fatima Nanabhay, who was voted volunteer of the year in 2019.
Ultimately, being part of such a great team, and being able to touch the lives of millions is all done with the intention of pleasing our Creator, Allah (SWT). The feeling of fulfillment while engaging in such work is difficult to put into words, however one of our volunteers, Ameera Mahomed summed up her feelings in this way:
"The most wonderful part about working with Islamic Relief is the smile I get to see on the faces of people who we are able to help, also to know that we are making a difference around the world and that I truly believe this is how we are building our Jannah Inshallah."
Each of our volunteers has their own story to tell and, in their own words, could point out all the reasons we do what we do. Whether it's to make a difference, put smiles on faces, be a part of something bigger or just be the best person we can, it's always underlined by the desire to please Allah. Surely, without his pleasure, all our efforts are futile. We as volunteers recognise how
fortunate we are, and it's our hope that we're able to use these positions to make an impact on the world we live in.
We'll leave you with the words of Safiyyah Sarang, our senior  volunteer, who sums it up as follows:
Volunteering is not just spending time helping others; it's about helping yourself through the service of others. It's become a way of life, a mindset- the more you think you're benefitting others, the more you realise how much you've benefitted yourself.
Written by Attiya Dadabhay and Suhail Dinat
Islamic Relief Volunteers
#bluecrew #lifesavers #readytoanswerthecall