When leading lives in absolute comfort in a developed country, it is easy to take for granted the everyday luxuries which people living in abject poverty long to have. I won't list all the statistics that are quoted over and over again, but it must be understood that lack of access to clean water results in hundreds and thousands of mothers, fathers and little children dying.
When Muslims observe fasting in the holy month of Ramadan in the UK, they go 18 or 19 hours at most without water. When the time comes to break fast, they are able to drink multiple glasses of water immediately to quench their thirst. When we were in Mali, the temperature was 35 degrees, and this was considered cool.
Imagine being unable to drink water for 19 hours or longer in the heat, and consider the effect this will undoubtedly have on the human body. Moreover, when you finally get water, you risk getting life-threatening illnesses with each gulp of water you drink. This unthinkable situation is reality for millions across Africa.
We were very fortunate to see first-hand how Islamic Relief Mali is working tirelessly to help those in need, and how lives are being transformed through Water Solutions. As mentioned in the Day 2 blog, Islamic Relief is concerned with sustainable and innovative solutions where beneficiaries are not reliant on aid after project delivery. This project in particular highlighted the immense attention to detail required in putting together completely self-sufficient and truly innovative projects with long-lasting benefits.
A remote village in the Ouelessebougou region of Mali had no real access to water until Islamic Relief Mali delivered an absolutely remarkable project, going above and beyond the provision of water by a simple well:
A solar powered water system was built, pumping water out of the ground to store it in a water tower.
A maternity milk unit with its own water access was provided, taking full advantage of the village's high milk yield.
Training sessions on health and sanitation were carried out, enabling exceptional sanitary standards to be kept in the maternity milk unit.
Other water access points (taps) were installed across the village so that the whole community can benefit.
With the water system giving out pressured water through a tap, a car wash business has also opened!
The water tower containing water pumped by a solar-powered system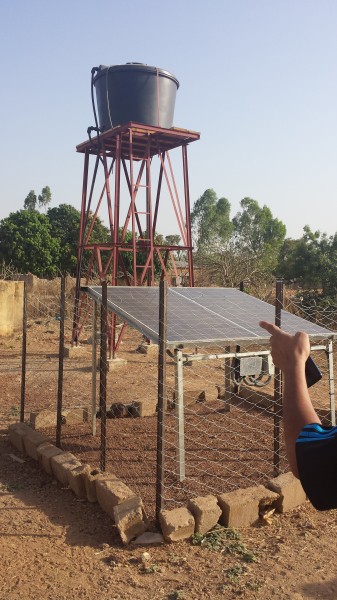 To support Islamic Relief's Water Solutions and help lift more lives out of poverty, please donate online.