Heroic father paralyzed saving children
"We were inside the house, busy doing routine work when we felt a strong jolt. The buildings and houses all around were shaking. It was very horrifying moment. Immediately, my husband rushed to the next room where our younger daughter, Heera, was sleeping, in the same room as her three brothers and sisters. My husband managed to bring the older three children out of the room immediately. He rushed back into the room again to rescue sleeping Heera, when a mound of rubble fell on him," explains Laxmi, the distraught wife of Nanda who was paralysed by the earthquake and is now in the National Trauma Centre in Kathmandu.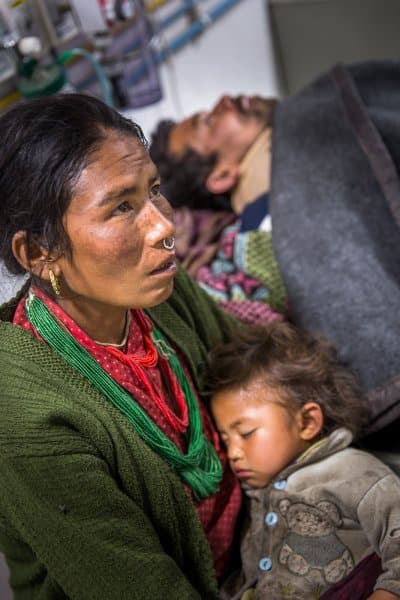 "He was very badly injured," continues Laxmi. "My father-in-law, brother-in-law and myself removed the rubble and tried to help Nanda walk but he couldn't even stand up." 
"We managed to reach the hospital and had to wait for a whole day before my husband received any treatment. There were a number of injured people coming to the hospital but not enough staff or services available. Volunteers helped us and registered my husband in the hospital," she maintained.
Nanda, who is a farmer by profession, has a spinal cord injury and is likely to be confined to a wheelchair for the rest of his life. He is the sole breadwinner for the family, but will no longer be able to do heavy farming work, like ploughing the fields.
Laxmi explains: "We already live in poverty and we won't be able to afford medical treatment. We have lost our home and all that is left is dust and rubble. I don't know how we will be able to take care of our children. How will I manage to earn a living if my husband does not get fit," she said breaking down tears at the hospital bed beside her husband.
Haseeb Khalid of the Islamic Relief Disaster Response Team explained: "As a father myself, I broke down in tears when Laxmi recounted her story. Every father often tells his children, 'No matter what happens he will always be there for them when they need him'. And Nanda did everything he could to save his daughter.  Children can never know the love, dedication and affection we feel for them and the sacrifices we make to keep them safe and happy. 
It touched my heart so much and made me think about how much my parents have done for me. I will never take my parents for granted again. And Insha'allah, I will take good care of them. 
The story made me think of a particular prayer – RABBIR HAM HUMA KAMA RABBA YANI SAGHIRA   (Our Lord! Forgive them both (my parents) for they have brought me up in my childhood."