Gaza conflict 2012 – one year on
"Just over a year ago, on 14th November 2012, an eight day long war started in Gaza. 1.7 million people live in the Gaza Strip, which is just 10 by 40 kilometres. In eight days, over 160 people were killed – including women and children – with more than 1,200 people injured and over 200 houses destroyed.
Gaza witnessed a previous war in 2008-9, and since then Islamic Relief had been doing so much to bring life back to normal. Reconstruction was in progress, and with the humanitarian situation already suffering as a result of the blockade, the 2012 war complicated matters.
But more importantly, Islamic Relief was treating of thousands of traumatised children who witnessed wars and the killing of loved ones in 2008-9 – and it was horrible to see already-traumatised children suffer again.
I visited the Islamic Relief psychosocial support centre in the Zaytoun neighbourhood and met 10-year-old Ahmed. After witnessing the death of his uncle in 2009, he became aggressive and less sociable; he was unable to sleep and his school results suffered. He had what the Islamic Relief psychologist called 'complex trauma'.
His mother told me that after receiving treatment at our psychosocial centre, he overcame the shock, leaving behind the nightmares, fear and aggression – but in 2012, his neighbour's house was shelled, and his cousin was killed. Now he is having treatment all over again.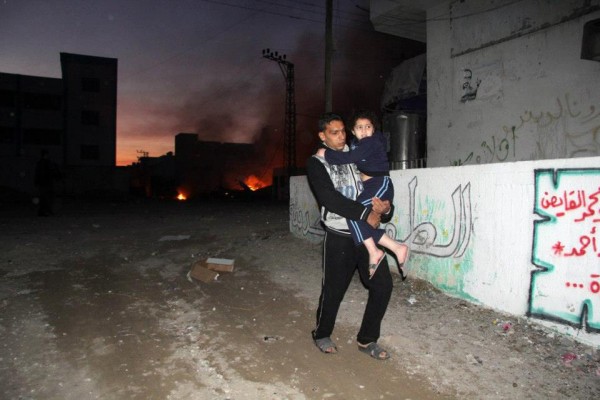 A father and son flee from the bombardment in Gaza, November 2012
I've noticed the effects in my own son, Karam. He is just three years old, but when the door shuts and makes a loud noise, he asks me: "bombing?" I tell him "no", and try to make things easy and simple for him. For a little boy to witness bombing and experience such fear is so difficult. An entire generation has been affected by this conflict, and we urgently need to provide more psychological support to keep them stable.
A year after the war, Gaza is still suffering, and the population remains dependent on aid – aid that is hard to come by, as much of the funding is being diverted to the Syrian crisis.
Despite these difficulties, Islamic Relief has continued to provide both immediate and long-term support to Gaza. We were a key player both during and after the crisis – with a £16 million budget, we've provided food for vulnerable families, renovated health facilities and provided medicine and other medical equipment. We've also rebuilt schools and homes, constructed networks to supply clean water, and helped people start small businesses so they can support themselves. We're sponsoring hundreds of orphans, and providing psychosocial support for traumatised children.
We are giving hope to the people of Gaza, letting them know that they are still remembered, running projects which make a real positive difference. We couldn't do so without our kind supporters from all over the world – thank you."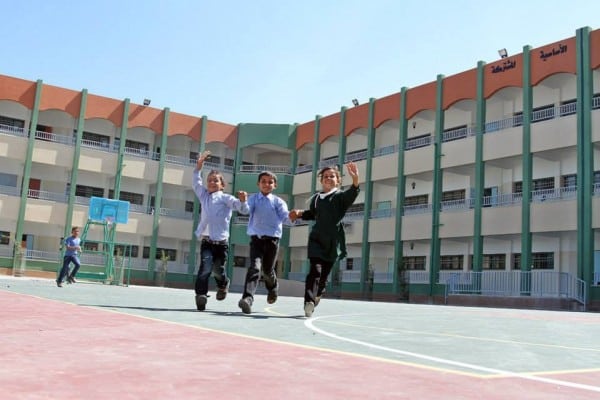 Students at the Almanama school, built by Islamic Relief