New drone footage released today by the Disasters Emergency Committee reveals the scale of the humanitarian crisis facing hundreds of thousands of people, mainly women and children, who have fled violence in Myanmar and crossed into neighbouring Bangladesh.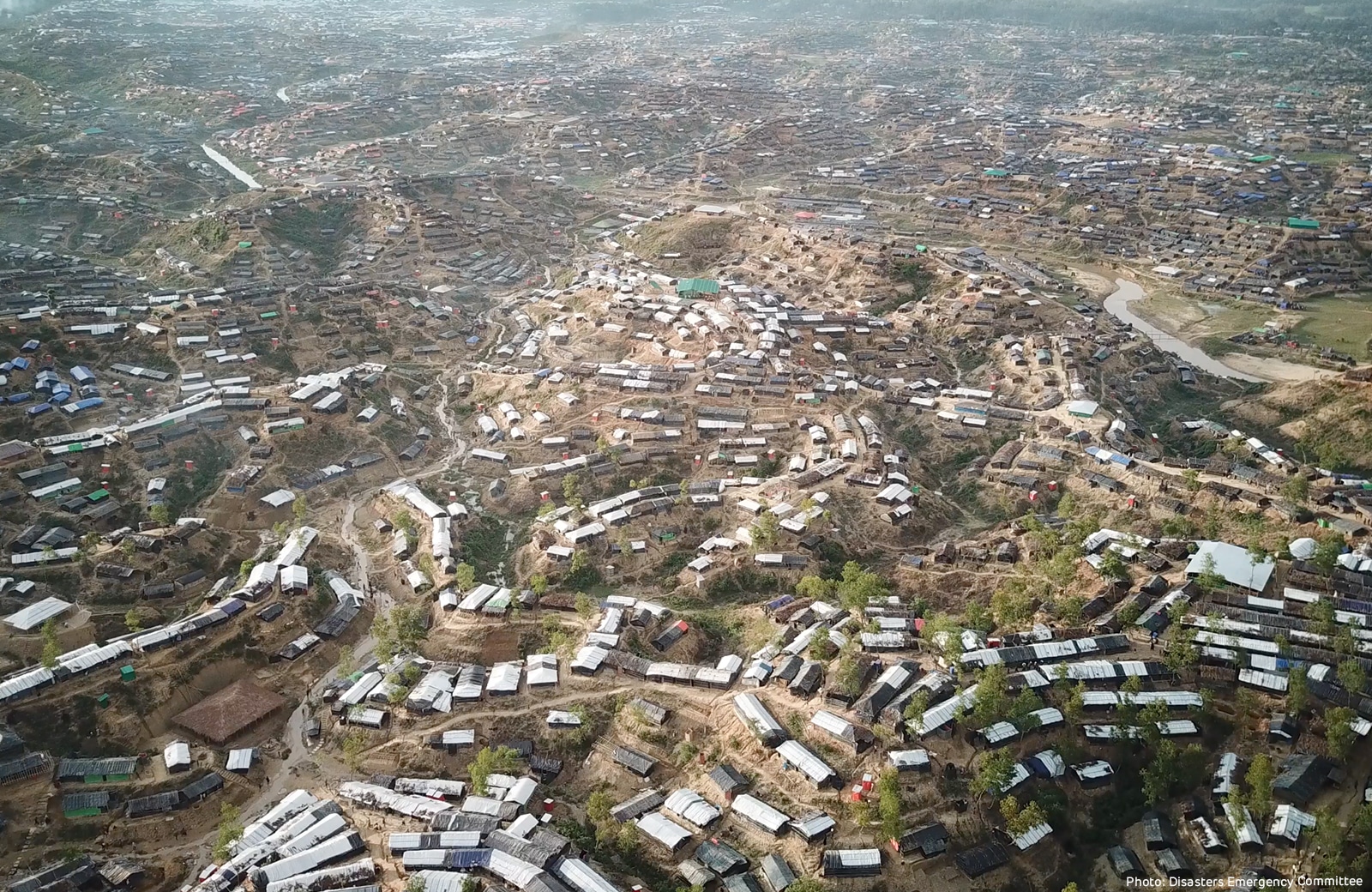 The footage, shot over the past week in the Balukhali area of Bangladesh, shows a huge sprawling makeshift city of informal settlements that stretches for miles. Since the end of August, 515,000 people fleeing Myanmar have arrived in Bangladesh – the region's largest mass movement of people in decades. With most currently living rough in appalling conditions, the government of Bangladesh has said it plans to build a new camp that will house more than 800,000 people, which is likely to be the largest settlement for displaced people in the world.
DEC charities will be working with authorities in the camp and are currently on the ground helping meet the immediate needs of people for food, shelter and medical care.
DEC Chief Executive Saleh Saeed said:
"This is a crisis of unprecedented proportions. It's hard to imagine the sheer scale of the numbers involved: half a million lives have been violently uprooted in just a matter of weeks.

"Our member agencies are supporting the Bangladesh authorities and humanitarian partners to ensure that new camps meet humanitarian standards, for instance, by having rain-resistant shelters, water systems and washing units.

"We urgently need more funds to provide even more emergency relief and protection to women, children and men who have nothing except the clothes on their backs. We hope the British public will continue to rise to the occasion and lend their generous support to this appeal."
DEC member charities are already responding in Bangladesh, providing temporary shelter, emergency healthcare, food, clean drinking water and sanitation services, such as latrines and hygiene kits. The UK Government will match pound for pound the first £3 million donated by the public to the DEC Emergency Appeal.
To make a donation to the DEC Emergency Appeal visit www.dec.org.uk, call the 24-hour hotline on 0370 60 60 610, donate over the counter at any high street bank or post office, or send a cheque. You can also donate £5 by texting the word SUPPORT to 70000.
ENDS
Notes to editors:
View drone footage here.

 Please credit the Disasters Emergency Committee when using any footage or images.

DEC media enquiries please call 020 7387 0200 or 07930 999 014 (out of hours)

The DEC brings 13 leading UK aid charities together in times of crisis: ActionAid, Age International, British Red Cross, CAFOD, CARE International, Christian Aid, Concern Worldwide, Islamic Relief Worldwide, Oxfam, Plan International UK, Save the Children, Tearfund and World Vision; all collectively raising money to reach those in need quickly.

All the money raised will support the 13 DEC agencies to reach people fleeing Myanmar, as well as the overstretched communities hosting them in Bangladesh. A number of DEC charities are prepared to respond in affected areas of Myanmar if access opens up.

To make a postal donation make cheques payable to 'DEC Emergency Appeal' and mail to 'PO Box 999, London, EC3A 3AA'.

Donations can be made at any high street bank and at Post Office counters.

To donate £5 by text send the word SUPPORT to 70000. The full £5 will go to the DEC Emergency Appeal. Donors must be 16 years or over and have bill payers' permission. Texts are free and donations will be added to the bill.
Shelter – R300 could provide emergency shelter for one family
Hygiene – R500 could provide ten families with hygiene kits
Food – R1000 could provide two families with food for a month
Water – R50 could provide a family with clean water for a week
UK Government match funding will go directly to the DEC and provide vital emergency supplies. This new funding will double the impact of the public's own donations up to £3 million and ensure that charities working on the ground can reach even more people in need.