An Exceptional Eid for Ibrahim in Gaza
"We were running and shells were falling over our heads like fire. My brother Mohammed who is two years old was holding my hand and crying out of fear. He could not walk."
This is how Ibrahim Karam, aged 10, started telling the story of what he went through after his neighbourhood in Al Sheja'ea was bombarded.
In a blink of an eye, war left Ibrahim and thousands of children just like him displaced without homes, clothes and family.
"Our house was completely destroyed. Nothing remains. We started spending days and nights in school buildings." says Ibrahim. However, Ibrahim's heart was attached to something other than their house. He told us: "I like raising birds. In my house I had 10 pigeons and I used to feed them with my hands everyday. I was very happy. I did not want to leave the house to stay with the pigeons. Shelling was so intense. One shell hit our house. We ran very fast and I could not take anything with me."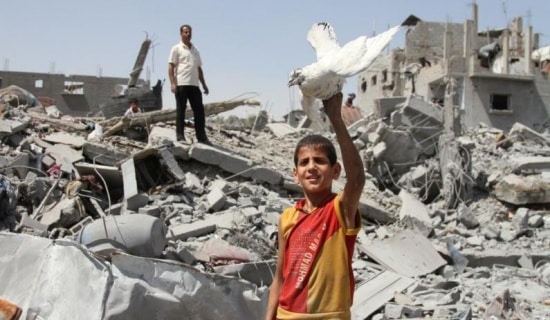 When a humanitarian ceasefire was announced, Ibrahim went back to his house. He said: "When the shelling stopped. I went back to our house, but i could not find them. All the pigeons had died too". He paused for a while, wiped tears that fell onto his cheeks and continued: "I am waiting for this war to end so that I can buy new pigeons. I want them to be white and brown just the same like the ones I had."
In an effort to spread some joy and happiness among the children of Palestine, Islamic Relief distributed new Eid  clothes to children who are now living in temporary shelters. A lot of these children were forced to flee their homes and leave all their possessions behind and often only had the clothes they were wearing.
Ibrahim said: "I am very happy because Islamic Relief brought new clothes for us. Since the day we came to school, this is the first time I have new clothes to be able to change." Looking at his new clothes, he told us: "I spent two hours looking for clothes for me and my brother under our house rubbles, but I could not find a single piece of clothing for us."
Islamic Relief distributed clothes to children in shelters who were in desperate need for clothes as they washed and wore the same things for days. The new clothes gave the children a hope of a better tomorrow and brought some happiness to their hearts.