Standing #WithSyria – Three Years On
15th March 2014 marked three years since the start of the bloody conflict in Syria. Last week, all over the world, thousands stood in vigils and prayer services to show their solidarity with the innocent civilians of Syria whose lives have been torn apart by conflict. Banksy's iconic Image of Hope was replicated in major cities worldwide, as we united to hope and pray that this is the last anniversary of the war to be marked by bloodshed. Over 60 global NGOs worked together to organise Solidarity vigils all over the world – UK, California, Washington DC, Abu Dhabi, Arizona, Paris, Fiji, Australia and Rome, are a few examples.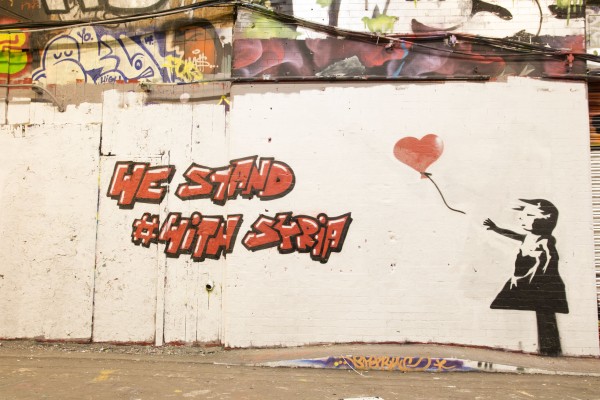 On 6th March, we worked with local graffiti artist, Oliver Miles, to plaster Banksy's image of Hope in the graffiti tunnel by Waterloo station. Islamic Relief staff, supporters and passers-by were invited to show their support by standing with the image. Our Campaigns and Education Coordinator, Lotifa Begum visited children at Buttercup Primary School. She talked to them about the conflict in Syria, and they were able to write messages of hope to children in Syria. Rahima, aged 8 wrote: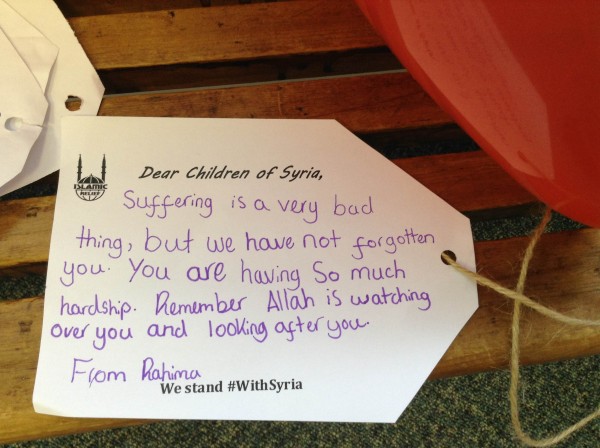 ""Suffering is a very bad thing, but we have not forgotten you. You are having so much hardship. Remember Allah is watching over you and looking after you."
On 13th March, a peaceful vigil took place in Trafalgar Square, London, bringing together hundreds of people of all ages, backgrounds and representing a range of organisations.  Banksy recreated his image of a girl with a balloon, and it was projected onto Nelson's Column during the evening, while lights lit up the ground and people carried red balloons in solidarity. Children were invited to take to the stage, sharing their messages of support for the Syrian people.
Supporter, Azkaa Hassam, 23, joined the vigil on Thursday evening. She said: "It was a privilege to be part of the vigil. There was a sense of tranquility in the air. However, this is something the people of Syria have not experienced since the eruption of war. A war that has seen the greatest humanitarian crisis of our time. I am moved by the resilience of the Syrian people and the hope in their hearts for peace."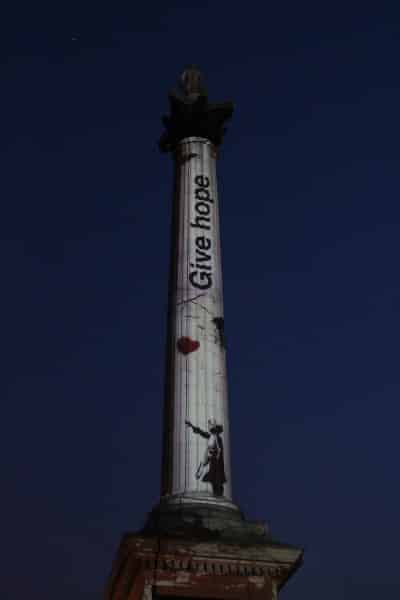 Islamic Relief has been providing relief to Syrians since the start of the conflict, working both inside Syria and with refugees in neighbouring Jordan, Lebanon and Iraq. We are supplying food, water, shelter and other essential items. Islamic Relief is also focusing heavily on healthcare, as many Syrians have been injured in the violence or fallen ill due to extremely poor living conditions.