Stand Up For Syria!
The numbers are shocking: Nearly three years of conflict in Syria. 100,000 dead, though the real figure is likely to be much higher. Almost 9 million have fled their homes to escape the violence, with 2.3 million seeking refuge in neighbouring countries. 11.6 million are in desperate need of humanitarian assistance to stay alive.
Islamic Relief has reached over 2 million Syrians inside and outside the country with life-saving aid. However, there can ultimately be no humanitarian solution to a political crisis. That's why, ahead of UN peace talks on 22nd January, our Stand Up For Syria campaign is pushing PM David Cameron to:
Press for peace – at UN talks in Geneva this month
Act for access – negotiate humanitarian corridors to get aid to those in need

Raise resources

– the UN relief effort is underfunded; we want the PM to deliver more British aid
Keep borders open – support neighbouring countries so they can keep helping refugees fleeing the violence
 We need you! 
Sign the e-petition
Tell your friends and family to do the same – share on Facebook and tweet the following message: I urge the UK PM to #Standup4Syria ahead of Geneva Peace Talks, urgently sign @IslamicReliefUK Syria petition NOW! http://bit.ly/standup4syria
There's no time to waste. Stand Up For Syria today!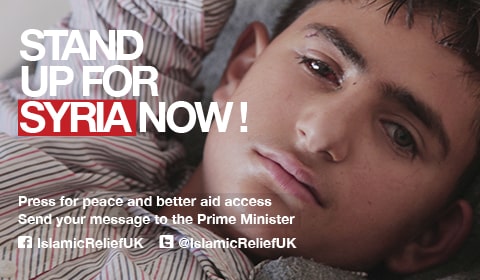 Islamic Relief in Syria
We have been providing relief to Syrians since the start of the conflict, working both inside Syria and with refugees in neighbouring Jordan, Lebanon and Iraq. We are supplying food, water, shelter and other essential items. Islamic Relief is also focusing heavily on healthcare, as many Syrians have been injured in the violence or fallen ill due to extremely poor living conditions.