Keep calm and carry on saving lives
On the small island of Botigues, where 90% of homes have been destroyed, the neighbourhood gathered and watched as we set our first tent up, excited at the thought that they too would soon have one. We all knew that it was just a tent – it wouldn't bring their homes back – but we could tell they were happy from the smiles on their faces, and the occasional 'oooh' and 'ahhh' as they noticed details like its size, and the fact that it had windows. It might have been just a tent, but it was somewhere to rest and keep the elements out until more permanent solutions were sought, and they were excited.
1,500 tents and 3,000 tarpaulins had arrived by Islamic Relief cargo plane, setting our targets high on the ground – but with the energy of the team, and the thought of the people we met and their suffering clearly in our minds, momentum soon gathered.
The team pitched 100 tents the first day, then another 550 on the second. As we enlisted the help of more local volunteers, we were able to reach more and more families quickly. Motorbikes hurried with sidecars, carrying tents off around the island – rows of tents were formed, then whole villages; soon we'd be onto the next island…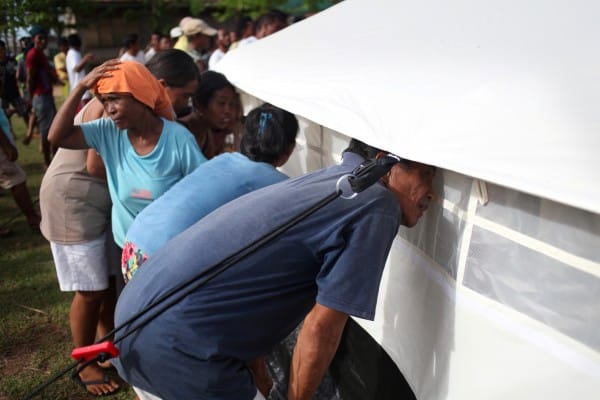 Locals on Botigues inspect their new homes from Islamic Relief
The process of delivering aid in remote areas is a difficult one, but not one that Islamic Relief shies away from. Islamic Relief's Imran Madden, who is leading the emergency response, explained: 'The logistics involved in flying tents and tarpaulins in, and the subsequent onward movement by truck and a multitude of boats to remote islands, has stretched us to our limits.'
The response was immense – as well as emergency shelter, we also provided 20,000 food parcels, and helped to distribute 32,000 more. RAFI, our local partner in the Philippines, managed to bring together a staggering 5,000 volunteers in just a few weeks.
We know that there is a long way to go in the process of rehabilitation; as I spoke to Imran, his comprehensive response plan was only just starting to take shape. Ahead of us are reconstruction and livelihoods projects, helping people really start to get their lives back on track. There are even discussions about running disaster risk reduction programmes, so that if – may God protect them – a disaster like this was to strike again, people would have a much greater chance of survival.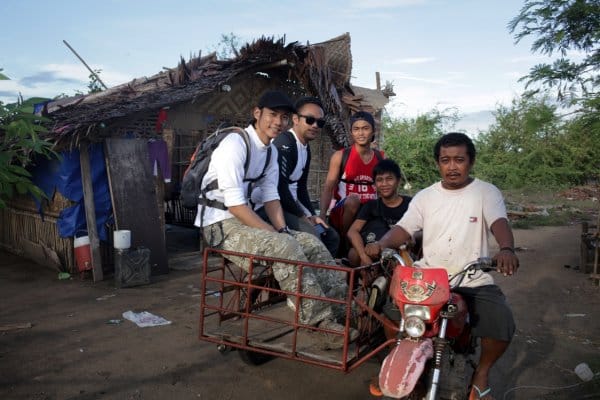 The volunteers who tirelessly helped carry tents and supplies around the islands.
The most inspiring part of the whole experience was the amazing people we met. Nobody demanded anything. Standing dignified in front of wrecked homes, they politely smiled and said 'whatever you can provide would be appreciated.' When we set up their tents, they simply gave us a heartfelt 'thank you'.
As Imran told me, the challenges have been tough, but 'our efforts have been amply rewarded by the incredibly warm reception we have received from our beneficiaries. It has been a community-wide expression of thanks – a humble and sincere appreciation for which the Filipinos are famous.'