Climbing Kili for Water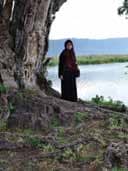 Having climbed Snowdon, Ben Nevis and Mount Toubkal in Morocco for Islamic Relief, I knew my next challenge had to be the world's tallest free-standing mountain, the highest peak in Africa – Mount Kilimanjaro.
With fourteen other challengers, we set off through the humid, lush rainforest, which transformed as we climbed higher into Alpine desert, hot and dry with very few plants. The trek was tough, but the scenery was beautiful, truly Allah's work of art – my favourite sight was of Kilimanjaro's snow-capped peak, just as the adhaan echoed from a nearby mosque.
The climb was difficult, but it made me realise how fortunate I am. I had friends around me to help when I struggled – but for the mother whose child is crying from thirst, who is there to help her? We set out to raise £60,000 for Islamic Relief's Water Solutions, providing people all over the world with clean drinking water, but amazingly we ended up raising over £100,000! Climbing Kilimanjaro for this cause was definitely worthwhile, and if I had the chance, I would do it all over again.