CAR – "We left everything we had"
Ibrahim Mahamat, 61, left behind everything to escape the violence tearing across the Central African Republic (CAR).
We met the father-of-nine in Gore Transit Site, a refugee camp in nearby Chad. Since he and his family fled their home in Berberati, in southwest CAR, Ibrahim has struggled to adjust to the conditions of camp life.
"We cook in the open, we wash in open, there are no toilets, and people defecate anywhere," he told us. "We are in a difficult situation now."
The family live in a makeshift shelter: a small lean-to fashioned from branches and clothes.
"We have no income now," he told us, "We left everything we had in the Central African Republic."
Hunger is a reality
Currently, the family depend on the vouchers they receive from the World Food Programme (WFP). This means they have around 4,000 CFA ($8 USD) a month with which to buy food.
"We rely on WFP for food but even this is not enough. It does not last the whole month. I am the breadwinner but there is no way to make money. I still have to find a way to buy food."
Ibrahim is frustrated by the lack of opportunities to earn a living. The family – even the children – collect firewood to sell, earning a little money that they can use toward their food needs. Islamic Relief plans to work with the WFP to increase food aid to families like Ibrahim's.
Children missing an education
There are no education facilities in the transit camp. Some of the residents are teachers, and offer classes to the children – but without even basic materials such as paper or blackboards, most children spend their time helping their parents instead. Islamic Relief wants to provide the teachers with the basic tools they need, so that children in the transit camps can resume their education.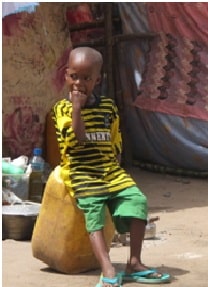 Ibrahim's son, Idriss
Ibrahim also fears that health services in the transit camp are also unable to meet the needs of all the new arrivals. He recently endured a bout of malaria and worries about what will happen if any of his family falls ill.
Moving to a new camp
Ibrahim's family will be moving once construction has been completed on a new camp several kilometres away. The site – designed to accommodate up to 20,000 new arrivals from CAR – will have shelters, but it is feared that there will be insufficient basic facilities, particularly in sanitation. Islamic Relief plans to install latrines in this new camp, and others, to help meet the needs of the vulnerable people that will be living there. We also want to build links between educational activities in the new camps and formal schooling systems in Chad.
Around 200,000 people have fled CAR and are seeking safety in nearby countries, including Chad. With your help, we can provide vital humanitarian aid to refugees, and those who remain in the conflict-torn country. Please donate to the Global Emergencies Fund to support our Central African Republic Crisis Appeal.