Afghanistan in Limbo
"Afghanistan is at a crossroads, facing an uncertain future."
Farzana Balooch is an emblem of how far Afghanistan has come in the last ten years – a 24-year-old woman based in Kabul, she holds a senior position within Islamic Relief Afghanistan, which would have been unheard of under Taliban rule.
Stories of success
Islamic Relief's new advocacy report, Afghanistan in Limbo, tells a plethora of success stories like Farzana's. There is Uzra, the 30-year-old mother of five who was once unable to read and write, but thanks to our education programme for women, runs her own business employing nearly 50 women. Abdul Rahim got treatment for his heroin addiction at our rehab clinic and turned his life around, while Malalai works as a maternity clinic run by Islamic Relief, delivering healthy babies and keeping mothers safe in a country where pregnancy and childbirth kill one women every two hours.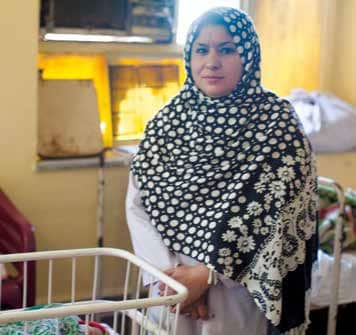 Malalai at the Islamic Relief-run maternity clinic where she works
Throughout the country, progress has been made on multiple fronts over the last decade, particularly for children – the future of the country. Eight times as many children are in school, including almost half of the country's girls – still not perfect, but a huge improvement from the 3% who went to school 13 years ago. More than half the population live within walking distance of a health clinic, and the number of children dying in infancy has dropped by 40%.
Still so far to go
However, international aid has almost halved in the last two years, and donor countries have not funded even a quarter of the UN's humanitarian plan for 2014. This is worrying when there is still so much to do. Alongside the success stories, the report also tells of people still in desperate need, like eight-year-old twins Shazia and Nazia, who live penniless in a camp in Kabul for displaced people and are forced to beg just to survive. Lailoma lost her husband and two of her three children to cancer and pneumonia in Nasaji Bagramy camp, and is now left alone with one-year-old son Esa Khan.
Contrary to what some might expect, more people are killed by poverty than conflict in Afghanistan, with life expectancy just 50 and one in ten children dying before their fifth birthday. Nearly nine million people don't have enough food or income to feed themselves adequately, while three million Afghans live either in camps for displaced people within the country, or as refugees in neighbouring nations – until they can be given permanent homes and livelihoods, their future is uncertain.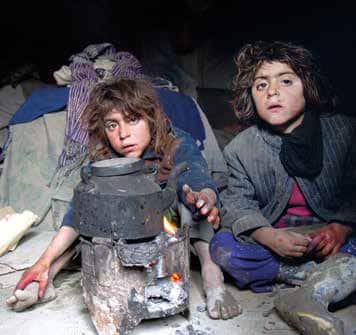 Nazia and Shazia huddle together to keep warm
'Don't turn your back on Afghanistan'
This new report urges aid donors not to turn their backs on Afghanistan as the troops prepare to withdraw at the end of this year – they are likely to need even more support, not less, to sustain the positive changes we have seen in recent years. Support to Afghanistan must help the country improve schooling for children, expand health provision and protect women's rights to education and work – in areas where women have been empowered to use their skills and talents, they have not only helped lift their families out of poverty, but also ensured their children get an education and the best chance at a brighter future. It must also tackle drug addiction, strengthen agriculture – which accounts for more than half of all employment – and protect displaced people both inside and outside Afghanistan, supporting them to build a secure life for themselves.
Within the UK, our 'Don't Abandon Afghanistan' campaign targets David Cameron, with supporters from around the country signing a petition to be sent to the Prime Minister. As Farzana says: "The people of Afghanistan, the women of Afghanistan, are ready to build on the hard work of the past decade. We urge you to stand by us, and work with us, for a brighter future."
Sign our petition NOW and tell PM David Cameron: Don't Abandon Afghanistan.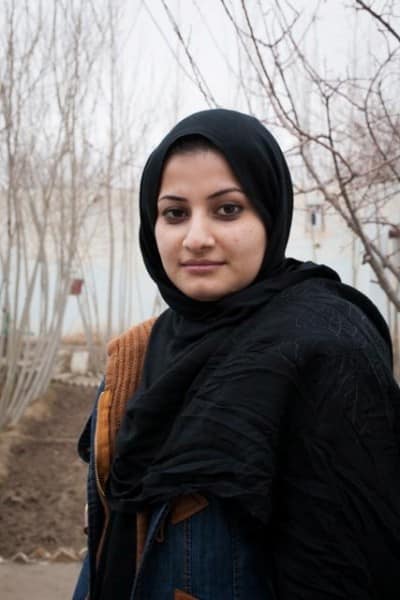 Farzana Balooch, 24, Orphan Sponsorship and Child Welfare Coordinator at Islamic Relief Afghanistan