Every year, as we're celebrating the holy month of Dhul Hijjah, our teams across the globe are working hard to deliver your Qurbani. From across Africa, the Middle East, Asia and even Europe, your Qurbani is making a real difference to families suffering the effects of war, conflict, natural disaster and poverty.
Despite the difficulties involved, we're reaching communities in some of the most remote and dangerous places in the world. SubhanAllah, in many of these areas, this will be the only meat they will have eaten for the whole year.
So, take a look at some of the 30+ countries where your Qurbani is feeding families in need!
Syria: Huge security challenges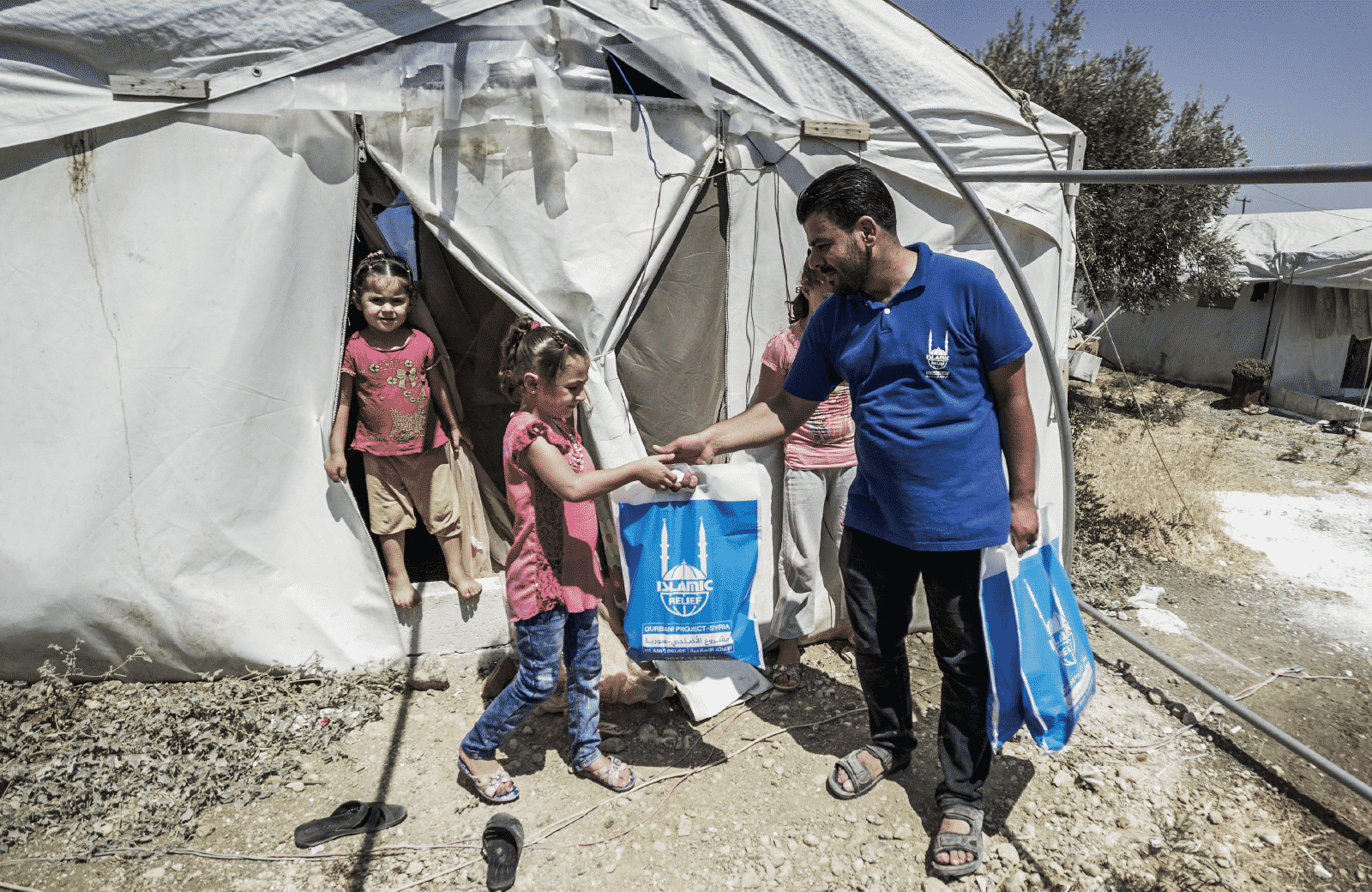 In Syria, distributing Qurbani is no easy task! Millions of Syrians are in need of aid and with the country in conflict, we have to take extra security measures. We work closely with local authorities, organisations and communities to make our distributions possible.
In northern Syria, over one million people are displaced from their homes and this number could rise drastically if more people arrive from the south-west of the country. This massive influx of people has created huge tensions between local communities and displaced people. We'll therefore be working closely with both communities to ensure that the most vulnerable people receive the Qurbani.
Yemen: A country in crisis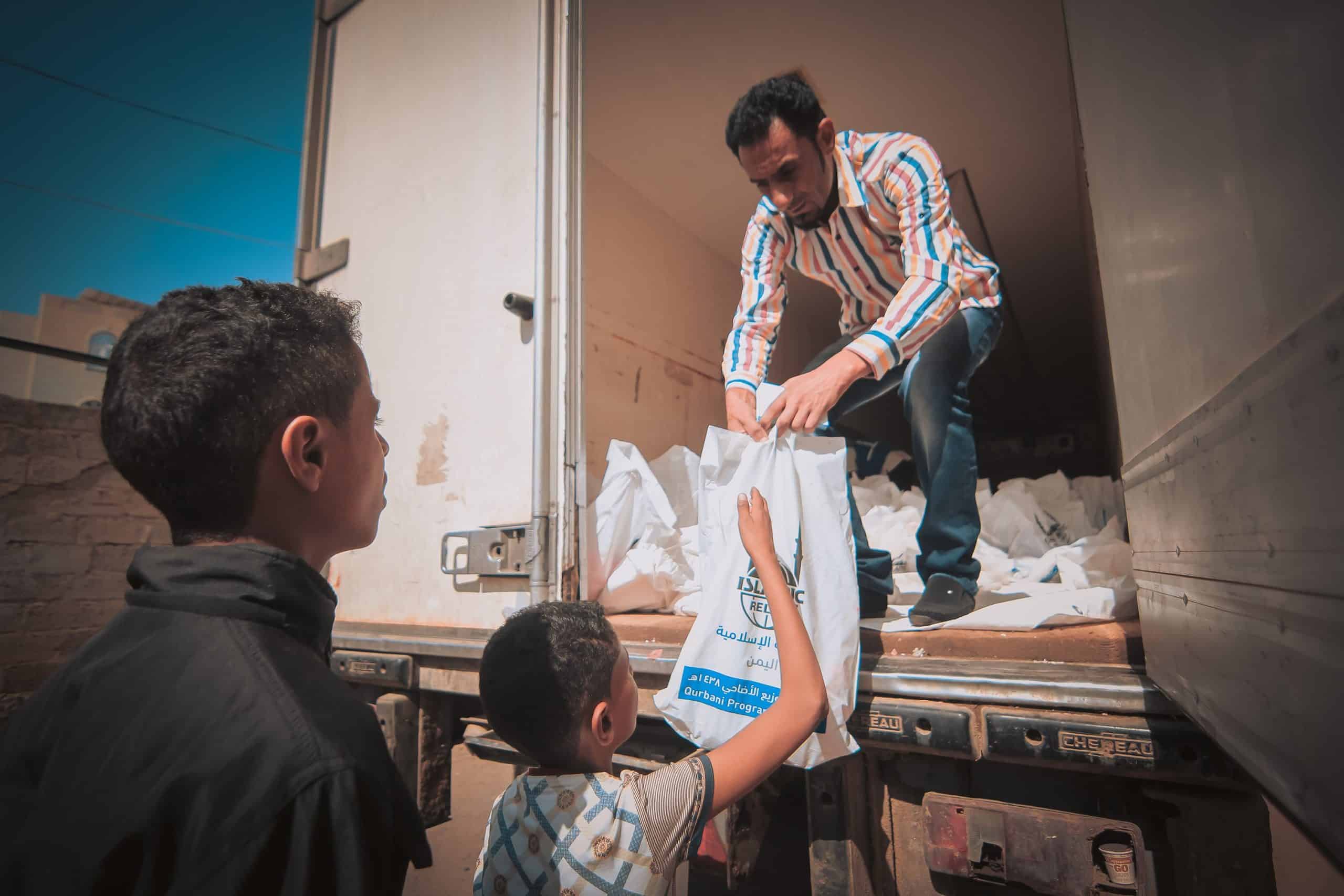 With the ongoing conflict in Yemen, delivering aid is incredibly complex! However, with so many people in Yemen in need of food aid and suffering from malnutrition, your Qurbani is providing much-needed essential aid which makes our work all the more worthwhile.
In Taiz and Sa'ada for example, regular clashes and airstrikes make it very difficult to use big refrigerated trucks as the bigger the truck, the more vulnerable it is to attack! To avoid dangerous conflict flashpoints, we also have to take a long route into Taiz. Add to this the fact that many of the slaughterhouses have been destroyed or are no longer operational and you can see how complicated things can get!
Alhamdulillah, we've gathered 3,800 goats from Ethiopia and the meat will enable 15,000 households in Aden, Taiz, Dhamar, Sana'a, Amran, and Sa'ada to have fresh meat. Why Ethiopian goats you might ask? Well, by buying goats in Ethiopia we avoid creating a shortage of goats in Yemen. In Dhamar and Sana'a, we'll also be prioritizing people who have been recently displaced by the conflict in Hodeida.
Somalia and Somaliland: Devastating drought and flooding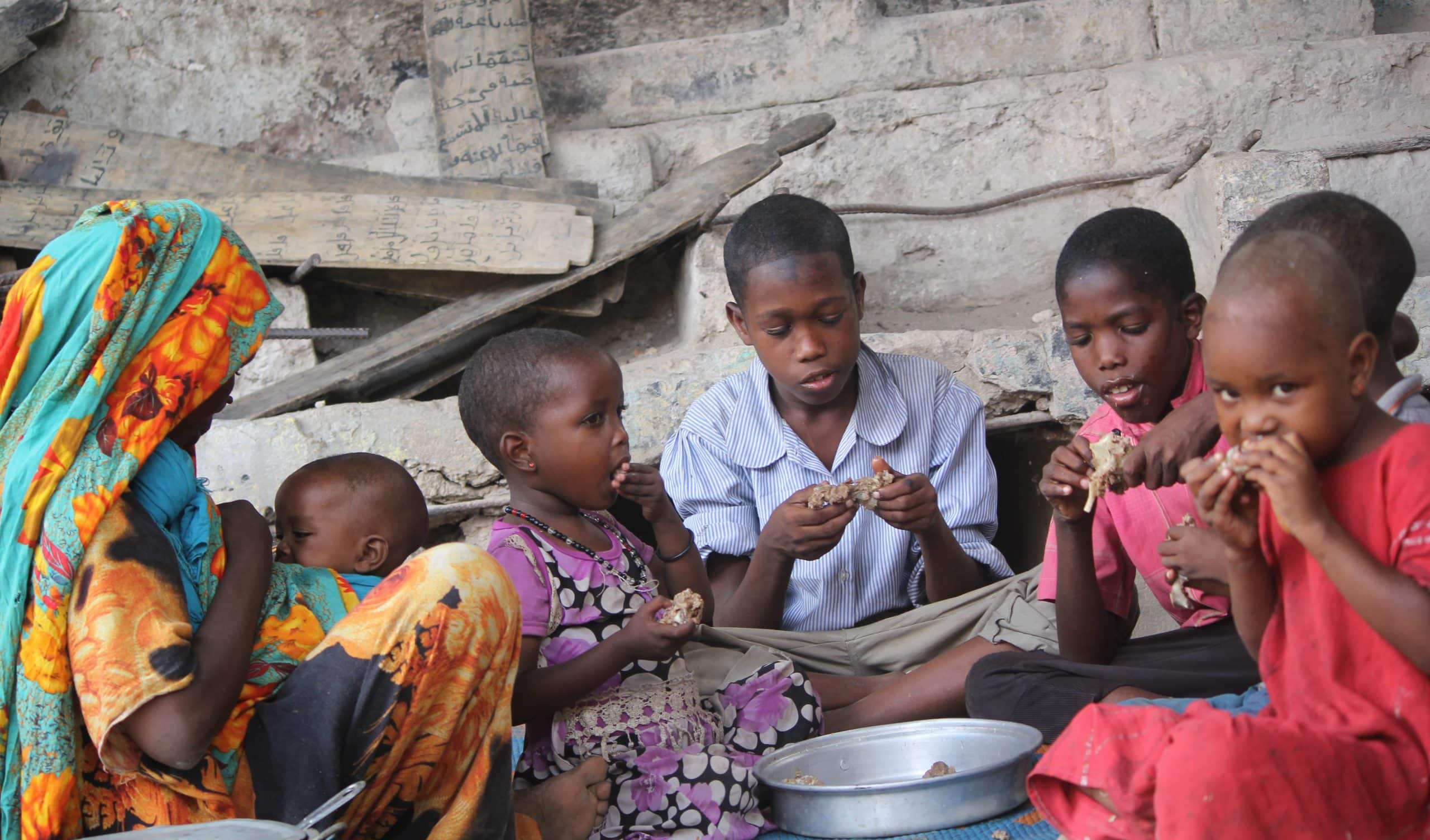 In Somaliland and Somalia, local communities are no strangers to drought and flooding. To ensure that families can have a happy, healthy Eid, we'll therefore be providing 12,000 goats and sheep to families whose lives have been devastated by drought, flooding and conflict.
In Somaliland, your Qurbani will also be providing pastoralists with essential aid. These farmers have lost their animals in the devastating Sima drought in the north of the country and are now living in large camps in the capital, Hargeisa. SubhanAllah, they are now completely dependent on aid.
Over in Puntland, we'll be supplying Qurbani to people who fled conflict and drought in the southern regions of Somalia, namely Bay and Bakool. Following such tragic events, these families are now living in camps in Garowe town and reliant upon outside support. Qurbani will also be delivered to people who were affected by the severe floods in Beledweyen, 200 miles north of the capital Mogadishu and displaced people living in the capital. Insha'Allah, your Qurbani will provide vital relief to communities who've already suffered so much.
Sudan: Conflict and crippling food prices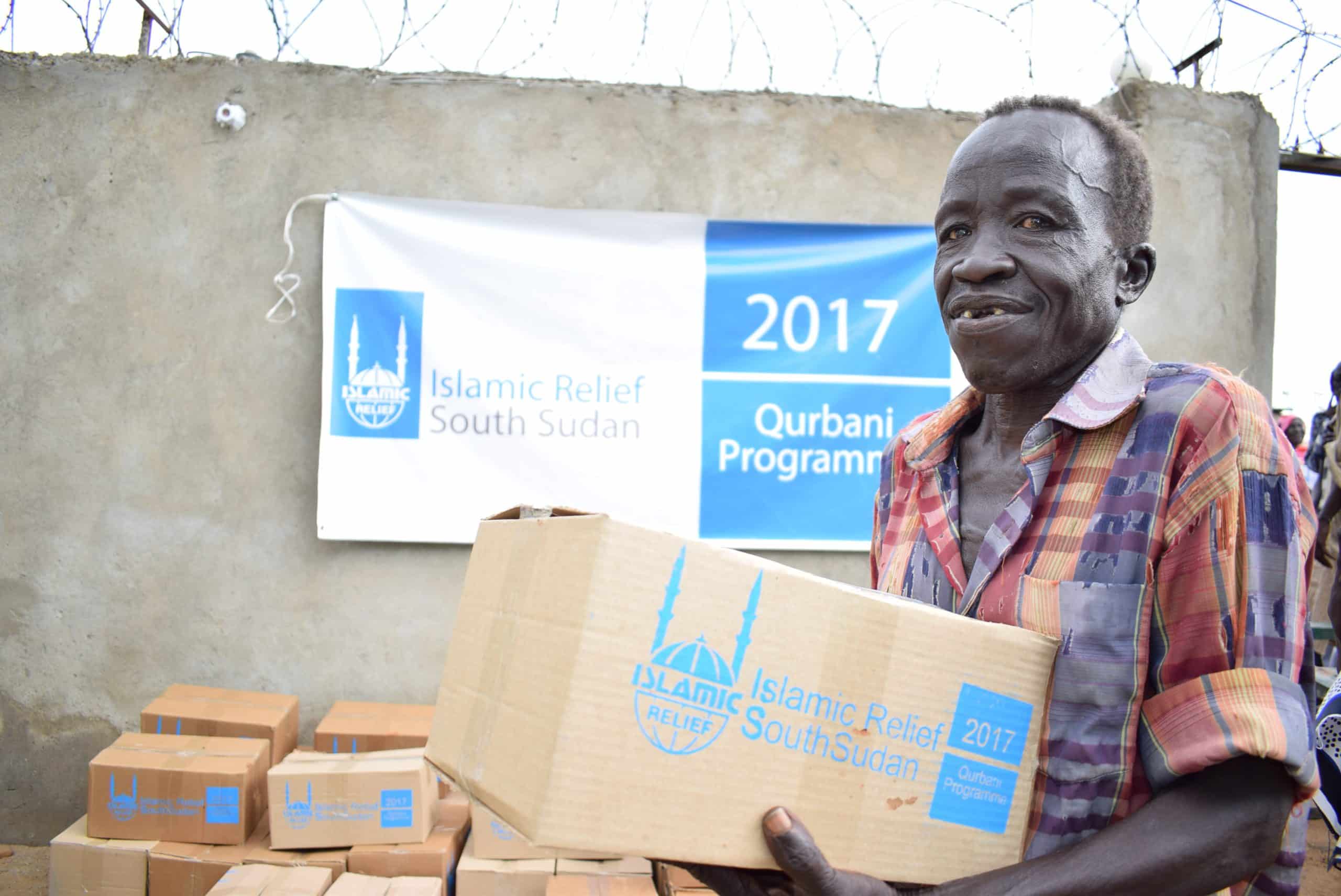 In Sudan, fuel shortages and high inflation (56%) mean that the price of sheep is a staggering five times higher than it was last year. What's more, the price of cows has almost doubled. As many traders from neighbouring countries come to Sudan to buy cows for Qurbani, the prices are increasing even further, causing inflation to rise even higher.
These communities are relying upon our support this Eid. We're providing over 1,200 bulls in  Blue Nile, North/South and West Kordofan, and Central Darfur – areas all affected by conflict. Many communities in Blue Nile and South Kordofan are inaccessible and so the humanitarian situation is dire.
In Central Darfur, recent clashes between government forces and rebels in Jabal Mara have left thousands of people displaced. What's more, in West Kordofan, thousands of refugees from South Sudan are seeking sanctuary. Despite the challenges however, we'll be supporting those in need this Eid to ensure families are happy and hunger free!
Bangladesh: Refugees in need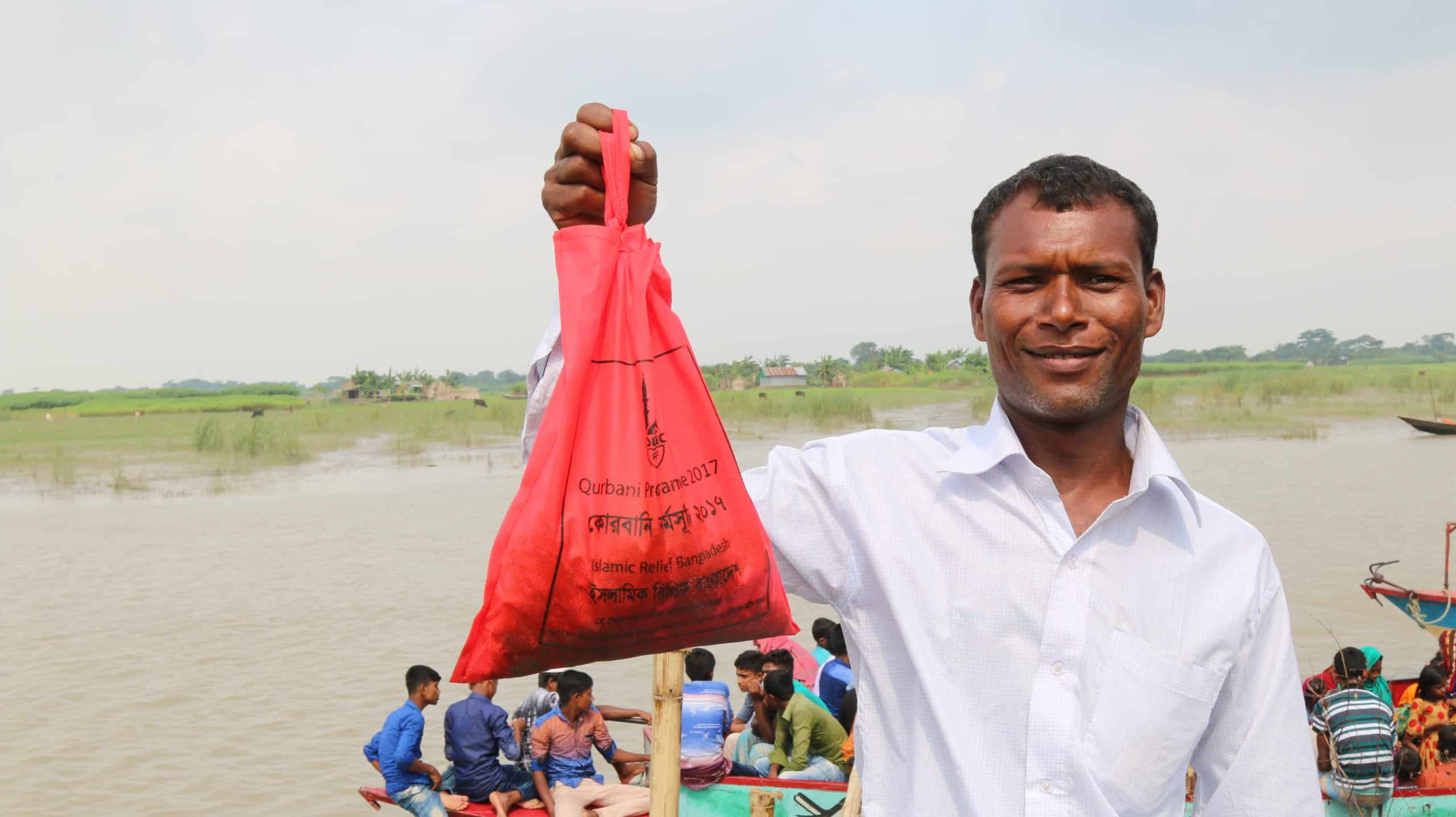 Bangladesh is now in monsoon season and high levels of rainfall are affecting local communities. Many families have lost their homes and livelihoods and are finding that they don't have enough food to eat. Our teams will therefore helping flood-affected families in areas such as Jamalpur, Sylhet and Kurigram, as well as refugees in Cox's Bazaar who have fled conflict in Myanmar.
We'll be providing cows for 48,000 vulnerable families. Female-headed households, pregnant and lactating mothers, elderly and disabled people, orphans and families with little or no income given the most priority as their needs are the most urgent.
With conflict and natural disasters devastating communities worldwide, your donations are all the more important for a family struggling to survive. Prophet Muhammad (SAW) said:
"He is not a believer whose stomach is filled while the neighbour to his side goes hungry."
This Eid, help feed a hungry family. As we remember the sacrifice of Prophet Ibrahim (AS) in devotion to Allah Almighty, let's remember these communicates in need.
Make a sacrifice – Give Qurbani