When age is not a limiting factor: the case of Gora Dhali
In Bangladesh, Gora Dhali, aged 86, suffers from a medical condition called Hyperkyphosis (hunchback), making it very difficult for him to walk. He lives with his wife, Tana Banu, who is deaf. However even with these conditions, they have not slowed down! Gora Dhali continues to work while his wife does all the household chores by herself.
Though Gora Dhali receives an elderly allowance of 300 taka a month, it is nearly impossible to support a family of two with this small amount, and they constantly have to think about a permanent source of income. Gora Dhali goes door to door collecting rice, pulses, and wheat from his community, which he then donates to his local mosque collection, but he also relies on alms that he collects during his visits. The local mosque allocates a small portion of his total collection as his wage.
Islamic Relief started working in Gora Dhali's local region, Koyra Sadar, an area highly vulnerable to cyclones, tropical storms, tidal surges, and the sea level rising. Islamic Relief are working in partnership with the UK Department for International Development's UK Aid Match Funding to implement the 'Enhancing Climate Change Adaptation and Disaster Resilience' project which targets the poor who are vulnerable to climate change in Bangladesh. Gora now wants to be able to earn a stable income through a method that requires little physical activity, as he is limited in his own capacity.
Islamic Relief has identified Gora Dhali as an 'exceptionally motivated senior citizen' who volunteers for the community and loves to extend his helping hand when needed. During the livelihood analysis process, he voluntarily helped his neighbours by collecting their information and taking it to the Islamic Relief office. He had to walk more than two kilometers to reach the office and submit the necessary papers even though staff planned to collect it. He used to visit the office to receive updates and then disseminate these amongst his neighbours. When he was asked why he is extending support to everybody, he smiled and said 'Like me, others also want to be a part of this and how can I not help them whilst this small help means a lot to them.'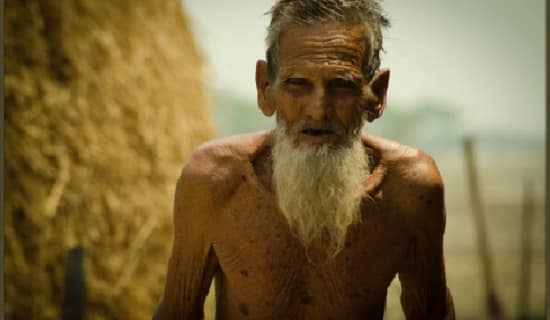 Currently Gora Dhali is drawing up plans with his daughter-in-law to benefit from the 'Enhancing Climate Change Adaptation and Disaster Resilience' project. With both his and his wife's old age in mind, livelihood options are limited and Gora Dhali has decided to run a clothes shop where his daughter-in-law, Mosammot Rahima Khatun, will work as a tailor. He will buy printed cloth (chit kapor) from the market and then sell that in his community. It has been agreed that his daughter-in–law will share her earnings with him when she receives an order. The Dhali family thinks they will attract people's attention by giving them two types of service at a time.