Still feeling the toll of Cyclone Aila
"Cyclone Aila struck the coastal belt of Bangladesh on 25 May, 2009. It affected around 9.3 million people, flattened houses and trees, destroyed crops, and wreaked widespread damage to infrastructure as well as communications and transport systems.
Districts with the fewest measures in place to prevent damage and protect communities, suffered the most. About 190 people died and over 7,000 were injured in Khulna and Satkhira alone."
A long-term humanitarian crisis
"Five years have passed since the cyclone struck, but its impact is still acute for the poor rural communities of the region, which suffered two cyclones in two years. The multifaceted damage wreaked has created a long-term humanitarian crisis.
In the aftermath of the disaster, emergency relief and social safety net initiatives were delivered – as well as early recovery programmes by organisations including Islamic Relief. However, the government of Bangladesh has yet to implement a much-needed livelihood support programme, in an area where over 60 per cent of people rely for their income on a severely damaged agriculture sector."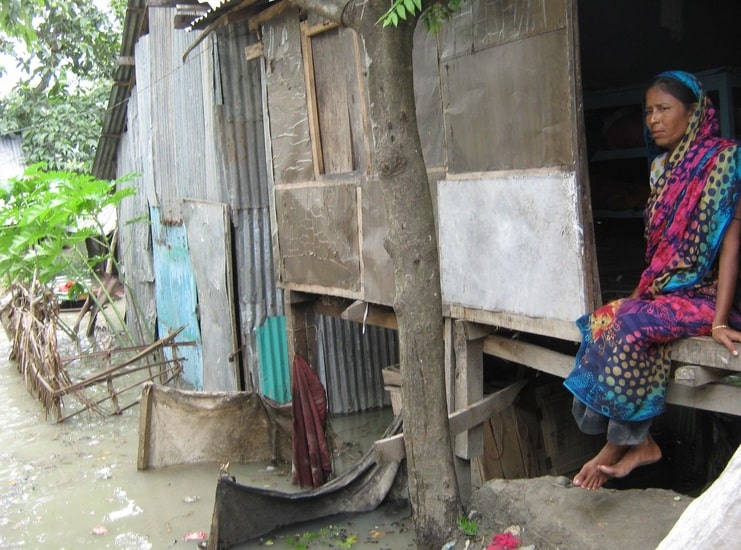 A woman at home in SouthKhali, Bagerhat district, Bangladesh
Widespread unemployment and hunger
"In addition, climatic hazards, saline intrusion and frequent tidal surges have further compromised agricultural land and left communities more vulnerable to flooding. As a result, unemployment and food insecurity are widespread. Communities also face flooding, tidal inundation and prolonged water logging resulting from the destruction of the coastal embankment network. Poverty and lack of opportunities to earn a living has seen tens of thousands of people from Khulna and its surrounding areas moving to Bangladesh's urban centres, as well as those displaced by Cyclone Aila. We have also seen severe damage to the Sundarbans – a rich ecosystem, valuable national park and a UNESCO World Heritage Site."
Lasting solutions needed now
"Five years since Aila, it is now more important than ever that affected communities receive the lasting solutions that they need. It is time for the public and private sectors, as well as civil society, to work together to push for sustainable development that addresses the growing crisis and protects vulnerable families from future disasters."
Islamic Relief began working in Bangladesh, one of the world's most disaster-prone countries, in 1991. We provide emergency aid as well as development projects – which include a major focus on disaster risk reduction. This sees us working with vulnerable communities to strengthen their resilience to natural disasters.