Solar-powered water for drought-affected Pakistan
In Balochistan, many small villages lack basic facilities, including access to water. Women and children typically shoulder the burden of water collection, facing long treks to often contaminated water sources. The time-consuming and hazardous journey jeopardises their health and ability to earn money or go to school, and the dirty water makes families vulnerable to disease.
In addition, over the last two decades, the arid region has been particularly prone to drought. This is undermining the means by which local people can earn a living – as they struggle to raise livestock and grow crops. In the districts of Chagai and Noshki, drought has forced families to migrate in order to access water for livestock – a major source of income.
Water for Chagai and Noshki
Islamic Relief is pioneering sustainable water solutions in the region. Our latest project is seeing five solar powered water pumps installed across the Noshki district. The pumps will not only provide safe drinking water for over 2,300 people, but open troughs will be built so that livestock owners can water their animals too.
Local communities are involved in the project, ensuring a sense of ownership over the new water sources. Organisations are being set up and trained to maintain the new facilities, ensuring that if they break down after Islamic Relief has left, the community are independent and don't need to call us back. The organisations will also promote health messages with the community, ensuring that everyone knows how to stay safe using clean water.
In the areas where the pumps have already been installed, communities are telling us of the benefits they've already noticed – household hygiene has improved, and rates of water-related diseases have dropped.
Sustainable solutions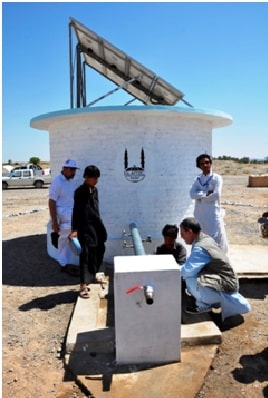 We use solar water pumps as a way to provide remote communities with water for life, in a way that protects the environment and is cost-effective.
We installed our first solar pump in Pakistan in 2005, with the support of National University of Science and Technology, Islamabad. More than 250 people continue to benefit from the sources, and we continued installing them across the country.
Now, 15,100 people are benefiting from our sustainable water sources – and it's not just water we're providing in an environmentally friendly way! We've also installed over 150 windmills to provide power to remote regions, as well as supplying public buildings and family homes with their own solar power sources.