Significant support for Syria but political solution needed
"The funds pledged will save lives; help to address the urgent humanitarian needs and begin to tackle more long-term needs, but we desperately need a more comprehensive political solution to stop the indiscriminate bombings and to protect the people under siege at risk of starvation," says Imran Madden, Islamic Relief's UK director.
Islamic Relief welcomes the fact that participants at the conference, including the leaders of UK, Germany, Kuwait, Norway and the United Nations, pledged to use their influence with all parties to the conflict to halt abuses of international humanitarian law and allow humanitarian agencies rapid, safe and unimpeded access throughout Syria in order to reach besieged and hard to reach areas, such as Madaya.
"We hope this will be heeded by the warring parties. But the fact that the peace conference in Geneva has been suspended and that face to face talks between the warring parties remain a distant prospect leaves us with little hope, continues Imran Madden.
The participants pledged over $10 billion for 2016 and a further $5.1 billion for 2017-2010 for those affected by the Syria crisis.
"This support will go a long way towards addressing humanitarian needs but given the scale of destruction within Syria and the huge numbers of refugees in neighbouring countries, more funds are urgently needed," says Imran Madden.
Last year, the UN's Syria Appeal was just 43% funded, down from 48% in 2014 and 68% in 2013.
Education
The conflict in Syria is creating a lost generation. One in four schools in Syria have been damaged or destroyed and more than half of Syrian refugee children are not in school.
The participants' commitment to ensure that 1.7 million children – all refugee children and vulnerable children in host communities – will be in quality education by the end of 2016/17 is welcome. But little progress has been made on supporting education inside Syria where 2.1 million children are currently out of school.
Islamic Relief welcomes the fact that Lebanon is planning to scale up education for Syrian refugees in the country and will be focusing on the younger age group. Islamic Relief Lebanon has already recognised the importance of supporting younger, pre-school children and has been implementing projects for them for the past couple of years. Last month we began a project to support kindergarten children and teachers and this project is reaching 500 Syrian and host community children between 3 and 5 years old.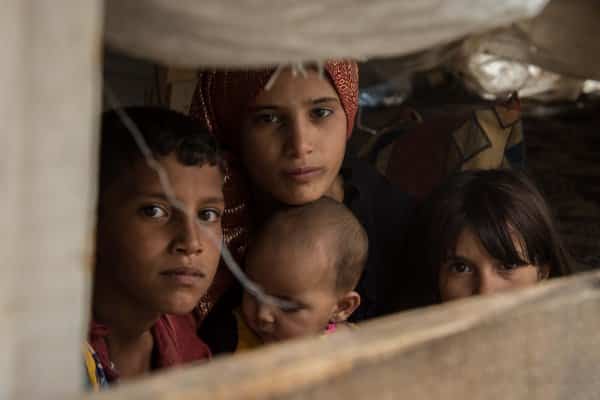 Job Opportunities
Islamic Relief welcomes the commitment of refugee hosting countries to provide more jobs for refugees and support from the conference participants to help them to achieve this. "This will provide more lasting benefits and help refugees to provide for their families; contribute to the host countries' economy and build a better future," continues Imran Madden.
Islamic Relief joins other international NGOs calling for a robust and transparent monitoring of implementation and pledges after the conference to ensure that commitments made in London are translated into concrete, coordinated action.
"Pledging the money is easy. These funds need to be transferred as soon as possible. The Syrian people have suffered too much for too long," says Imran Madden.
"They deserve a better future wherever they are in exile and more importantly, prospects for a more peaceful future in their homeland. The international community must keep up the momentum after this conference and do everything they can to pursue a lasting political solution."