Saving lives and changing futures in Sudan
Thirty years ago Hany El-Banna, a young Egyptian-born doctor from Birmingham, visited Sudan and witnessed the immense suffering caused by famine. When he recounted his experiences to his family in Cairo on the way back to the UK, his ten-year-old nephew handed over his pocket money – the equivalent of 20p.
"I was going to buy chocolate but the people of Sudan need it more," his nephew said. And so, Islamic Relief was born.
Three decades later, we're still supporting the people of Sudan, as well as 29 other countries around the world. When disaster strikes in Sudan, as with the floods earlier this year, or when conflict breaks out, we're still there to provide emergency relief or run refugee camps – like Kerinding II in the troubled Darfur region.
But we also want to help families rebuild their lives and look forward to a better future, so we work to make long-term improvements in the provision of clean water, education and healthcare. We help children like Najad attend school, giving her staple foods for her family so that her parents don't have to send Najad and her brothers out to work.
We're excited to announce that this year, we're launching a brand new project to transform 54 villages in Sudan's Blue Nile and West Darfur regions.
Almost three quarters of the people in these areas can't get clean water easily, so we'll be building 122 new water points – close to people's homes so that vulnerable women and girls don't have to walk long distances and put themselves at risk of attack. Nearly half the population can't get healthcare, so we'll rebuild and stock clinics, train health staff and tackle malaria.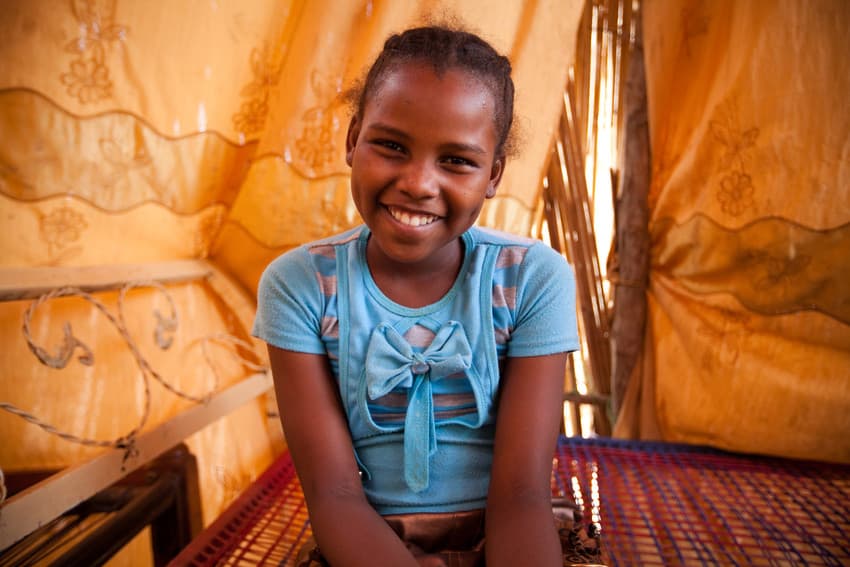 Many children in the region don't attend school due to long distances and poor facilities – especially girls, who are kept at home to fetch water and often get married young. So we'll rebuild and equip schools near to girls' homes, train teachers and provide basic facilities like latrines and school meals, including vegetables from the school gardens we plant!
Finally, we are determined to ensure that these communities are able to support themselves so that when we leave, they don't need to call us back for support again. So we will train women and young people in new vocational skills to help them earn a living, as well as supporting farmers and livestock owners with training and equipment. Farmers find it particularly difficult to grow crops in such a harsh and hot environment, made worse by climate change, so we'll teach communities to prevent crop fires spreading and plant new trees to keep the land moist and fertile.
When this project is finished, over 113,000 lives will have been changed for the better – but we need you to make it happen!
This Ramadan, when you donate to Islamic Relief before 3rd August, alhamdulillah we can double your donations. By the grace of Allah, the UK Government has pledged to match your donations pound for pound up to £5 million – and it's that extra £5 million that  will fund our new project in Sudan. So whether you pay your zakat, give to Syria or support our water projects around the world, you'll be making this exciting project a reality at the same time!
Give to Islamic Relief this Ramadan and help us change twice as many lives, inshaAllah – double your donation today!