#Running4Gaza – Part IV
Oct 19th – B'ham Half Marathon (13.1 miles)
The Bupa Great Birmingham Run is the leading Half Marathon in the Midlands and attracts 20,000 entrants every year. I was so excited to be taking part. However, this really isn't a half marathon to "enjoy"; it has a very tough route with some horrible hills, especially in the last few miles. I started the race with my good friend; fellow Islamic Relief volunteer Belal Bellali, and we ran together for the first 9 miles. It was great to have his company, as it's easy to get demotivated when the running gets tough, but we kept each other going.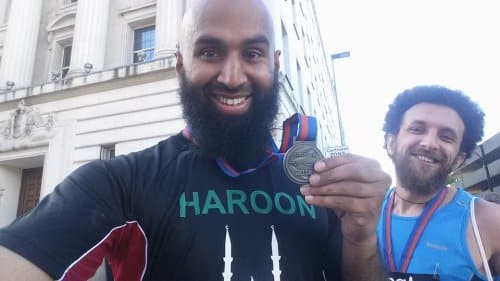 I approached the 10 mile mark in great time, but then came the struggle. These tough tackling inclines are a killer for tired legs. I soon realised that I should've taken the first 10 miles a bit slower to reserve my legs for the final push. I soon found myself overly exhausted and the cramping sensations in various parts of my legs commenced. I had to stop to stretch a few times in the last few miles before pushing on in the final stretch, where the crowds were full of applaud and cheer. I crossed the finish line in 1 hour 54 minutes & 29 seconds, a whole 7 minutes slower than the previous week, but…Alhamdulillah I was just happy to be at the finish line.
My phone rang, "we've just seen you finish live on TV!" my brother in law Zaid said. I prostrated in sujood in gratitude to the Lord, but had to swiftly jump up as the cramp struck again.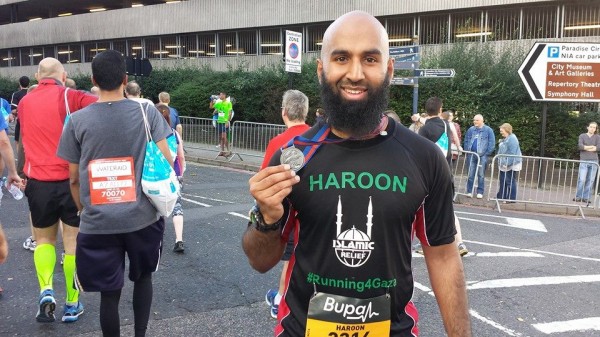 I was over the moon; and I was already thinking about my 5th and final run at the Leicester Half Marathon next week. I'm hoping I can finish off with a personal best next week, and more significantly I'd be so pleased if my Justgiving page keeps increasing up to my final run!
Visit Haroon's Justgiving page:  https://www.justgiving.com/Five4Gaza/
Follow him on Twitter: @Haroon_Mota