#Running4Gaza – Part III
Oct 12th – Royal Parks Half Marathon (13.1 miles)
I travelled down to London on Saturday afternoon and went to sleep that night anticipating the excitement of race day. The Royal Parks Half Marathon was expecting 16,000 runners to be present, and I couldn't wait to be part of it.
Race day was finally here. I woke up at 6am when room service knocked on my door to deliver my porridge and banana. After breakfast and morning prayers I set out for Hyde Park, where the Marathon was due to start. The weather was perfect for running and the views over the Serpentine at Hyde Park were amazing as the sun rose.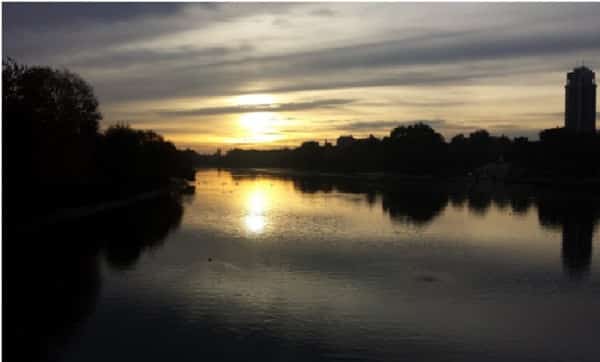 At the start line I was among thousands, full of energy and ready to go with a personal best on the agenda. Slightly anxious however, with the usual doubts in my head; "have I recovered sufficiently from last week? Have I hydrated and fuelled well enough?"etc. Nevertheless, it was time to hit the road and off I went when the horn sounded. I started well and I knew I had to work!!

The start line, counting down to the 9am start    
As I approached Buckingham Palace at mile 5, I found myself breaking into tears, as it brought back memories from the 2012 London Marathon. It was where I met my dad after the Marathon, and sadly he is no longer with us. I had to quickly compose myself and not let the emotion get the better of me. With my dad in my heart I was full of motivation, and it spurred me on further.
Shortly after I had reached 6.75 miles, significantly the half-way point of my 5 Half Marathons – Alhamdulillah…a motivating milestone! The crowds of supporters were amazing especially the charity squads, cheering all the runners on as we got back in to Hyde Park for the second part of the race. I pushed hard in the latter half of the race, even more so in the last 3 miles, and I was rewarded with a personal best of 1 hour 47 minutes 29 seconds. I was over the moon, and I still am, Alhamdulillah. 3 down, 2 to go!!
Catch me on Islam Channel's Living the Life Show at 7pm Tuesday 14th October to hear a bit more about my #Running4Gaza Challenge.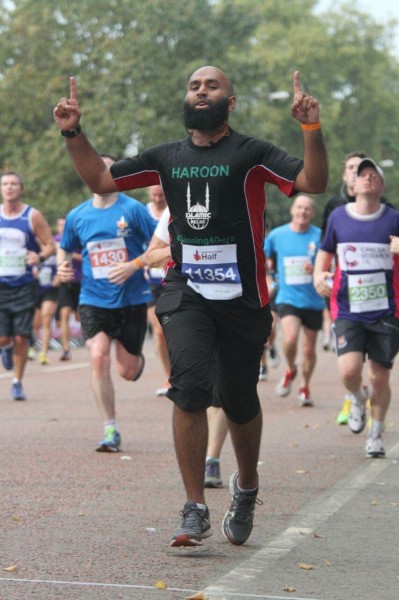 Haroon is just a few hundred pounds away from his fundraising total. Support him by donating: www.justgiving.com/Five4Gaza/