#Running4Gaza – part II
A belated Eid Mubarak to everyone!!
After completing the Robin Hood Half Marathon last week, preparations for part 2 of my challenge were pretty much under-way imminently; I woke up the following morning for a 4 mile recovery run to get them stiff, aching legs moving again. Running the Blenheim Palace Half Marathon on Eid weekend was never going to be easy. I had to supress my appetite for cakes, biscuits and the usual fried grub, which wasn't fun at all. It was very pleasing to see donations rain in on my justgiving page though; we were certainly remembering Gaza this Eid.
I woke up on race day feeling rather drained and I knew I had to motivate and mentally prepare myself to tackle the tough inclines and knee-testing declines that were ahead of me. I decided that my motivational cue would be "Eid in Gaza". Here I was, waking up healthy and well, getting ready to run a Half Marathon, whilst many in Gaza were without limbs, lost in health and lost for dreams. I had no reason not to get up stimulated to run. Furthermore, my wife had also signed up to take on the Blenheim 10k run, and my younger sister was coming along to spectate too, so their support was great encouragement for me.
Initially my plan was to just get through the 13.1 miles at a moderate hard working pace, as I had no intention of punishing myself by racing through the hills. But a friend had told me that he'd donate an extra £10 for every personal best I get, so I had no option but to give it my best. It was hard going once I started but I kept my focus and before I knew it, I had just 3 miles to go, and a chance of achieving a PB. I pushed on in the final stretches digging deep, and sprinting up hill to the finish line with a time of 1 hour, 49 mins 58 seconds. Not a personal best but I was ecstatic Alhamdulillah!
The support so far has been incredible and my sponsorship total has reached £4500, with 3 Half Marathons yet to run. We'll get there soon insha Allah.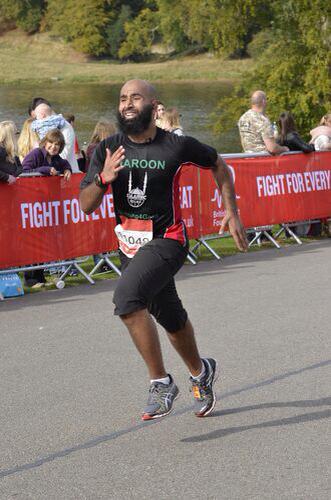 Many thanks to BodyPlus Sports Therapy in Coventry, who have kindly offered me free sports massage after every run to help my legs recover.
2 down 3 to go!!!
Sponsor Haroon by visiting: https://www.justgiving.com/Five4Gaza/
Follow him on Twitter: @Haroon_Mota