Islamic Relief is providing emergency aid to people affected by the recent floods, which are the worst the country has seen for 30 years. We are focussing on Hpa'an, capital of Kayin State in Myanmar, one of the heaviest hit areas.
At least 10 people have been killed and over 95,000 forced to leave their homes, destroyed by floods affecting seven states in the country.
Oliver Kyaw, Islamic Relief's country director in Myanmar said:
"These floods are the worst Myanmar has seen for 30 years and are becoming relentless. Every year, large numbers of people die as a result of flooding and it is evident that climate change is a key factor in this. It doesn't help that illegal logging is widespread in Myanmar."
Two children died yesterday in Hpa'an, swept away by the flood waters, which have caused over 10,000 people to flee their homes in Hpa'an town.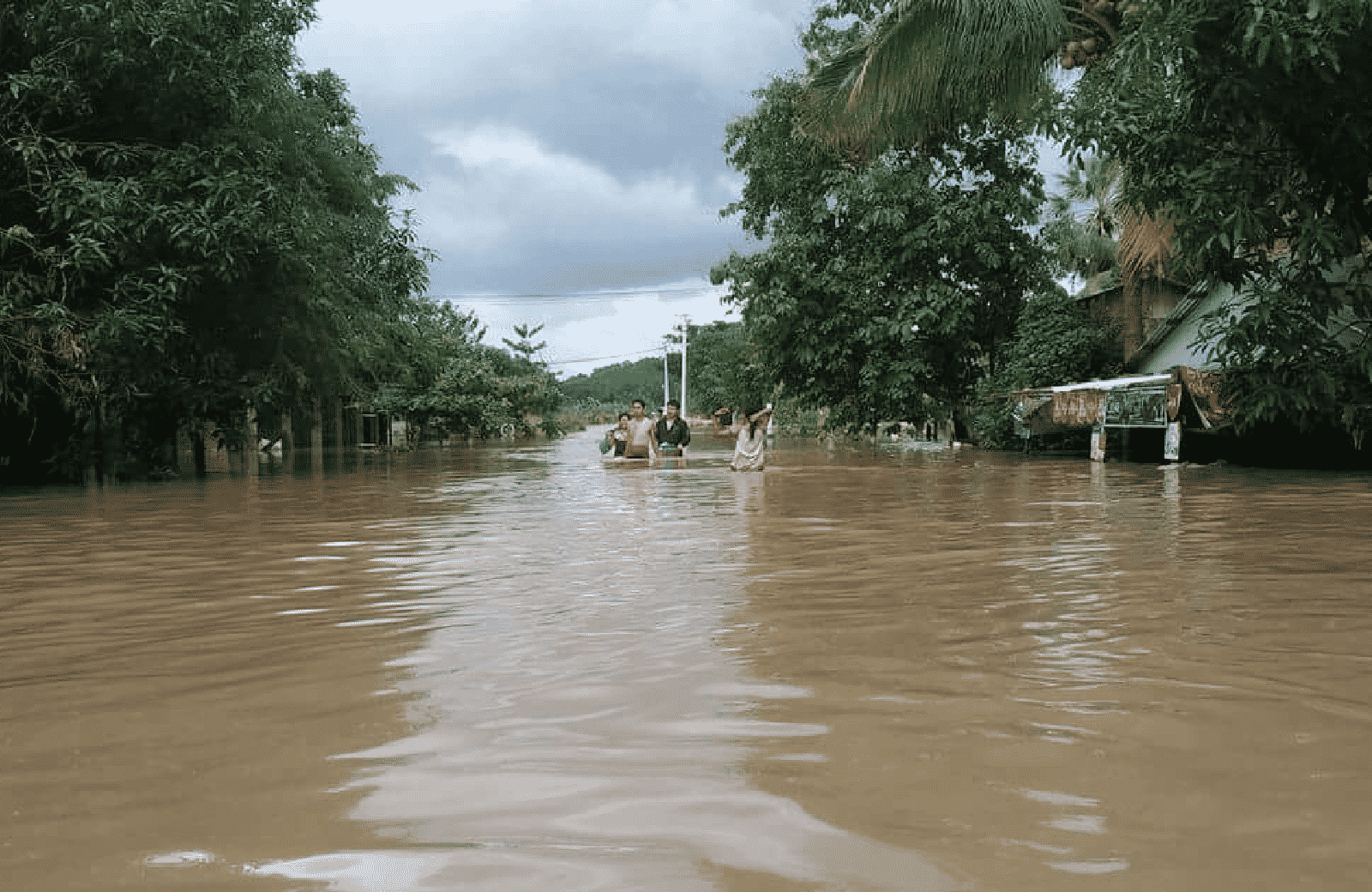 Photo: Flooding in Shwe Taw village, Hpa'an
Islamic Relief's local partner, Phyu Sin Saydana Action Group (PSSAG), is distributing emergency food and essential items to 12,000 people in Hpa'an and the surrounding villages. The organisation itself has been affected by the floods in Hpa'an, with the ground floor of their building completely flooded.
PSSAG's coordinator in Yangon, Rhoda Thein, said:
"It's extremely dangerous to operate there at the moment as the water current is so strong. It's not possible for any vehicles to get through, so we have to travel by boat. The market has been flooded and people are entirely dependent on aid provided by ourselves and local government. Because of all the problems, what food there is has doubled in price."

"Unfortunately, the situation will only get worse as more heavy rains are expected. Toilets have flooded which could lead to contamination of water sources and severe health issues.

She added: "There is no electricity and it is extremely difficult to get through to our staff there who are saving their phone batteries for emergency calls only."
There are six staff members at PSSAG and four of them are stuck in their home villages unable to get into the office. PSSAG will be engaging with local volunteers to help distribute the emergency food, which includes rice, tinned fish, oil, beans and cooking oil and tarpaulin.
ENDS
Notes to Editor
Islamic Relief started to work in Myanmar in 2014 and continues to reach people in need through health, shelter, water and livelihoods projects in Rakhine, Kayin and the Ayeyarwady Delta.