Muslim News Awards – 25th Anniversary
The Muslim News, who are celebrating their 25th anniversary this year, hosted the 12th annual Muslim News Awards for Excellence on 31st March 2014 in London.  The Awards seek to celebrate some of the very best achievements of Muslims, and had over 800 guests. Special guests this year included Prime Minister David Cameron, Attorney General, Dominic Grieve and Shadow Justice Secretary, Sadiq Khan.
Islamic Relief are very proud to have sponsored the Uthman Dan Fodio Award for Excellence in Community Development. This award is named after the early 19th century Caliph of Nigeria. He used his impeccable credentials as an Islamic scholar and community leader to champion women's rights and worked tirelessly to spread literacy among his people. He had the ability to persuade and overcome traditional opposition to social progress. His role in community development still remains a guiding light today. This year, the award was presented to QED UK.
Based in Bradford and founded in 1990, QED UK operates at a local, national and international level. It tackles grass root problems by delivering ground-breaking services in health, education and employment to those most in need. It has led a Community Partnership in Yorkshire to find jobs for 2000 people of Pakistani and Bangladeshi origin, and trained 500 young people from 25 inner-city schools about the World of Work in partnership with 50 employers.
QED works to redress imbalances in education and household income, where 60% of Pakistani and Bangledshi households have an income of less than half the national average. QED is a member of the European Integration Forum, and they have established partners from all sections of society, nationally and internationally, and delivered programmes for the European Union, Department for Work and Pensions, Foreign & Commonwealth Office, and many more.
Founder and CEO of QED, Dr Mohammed Ali OBE, was presented the award by Islamic Relief's Head of Communications, Zaid Al-Rawni on the night. Dr. Ali said: "It was a great honour to receive this sought after Award and recognition of the important work we have done at a grass roots, community level. Whilst we should celebrate the successes of British Muslims to inspire others, we should not underestimate the challenges still ahead. Muslims suffer more than double the UK's average poverty levels, while the economic activity rate for Muslim women is just 30%."
Amongst the other 15 winners were, in sport, Mo Farah, Olympic gold medallist, who is also involved in various philanthropic initiatives; in the media, Roohi Hasan, a senior producer at ITV News, and the children's award went to 10-year-old, Ahmed Saleh, who has won numerous kickboxing and freestyle karate titles at national, European, and global levels.
The evening was a resounding success, with a great atmosphere. We congratulate all nominees and winners and wish them all the best with their future endeavours, insha Allah.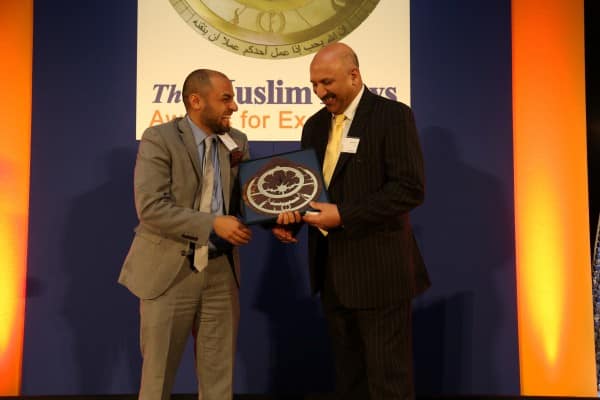 Dr Mohammed Ali, Chief Executive of QED (right) receiving the Uthman Dan Fodio for Community Development by Zaid Al-Rawni, Head of Communications, Islamic Relief (UK) at The Muslim News Awards for Excellence event on 31 March 2014