Fish farms to feed Malawi
Longer than usual hunger season
In Malawi, late rains have delayed the planting of crops – local communities are used to a yearly 'hunger season', but this year it has gone on for longer than usual, extending right up until March. When the rain finally came, it was in the form of heavy rainstorms, causing floods affecting over 7,000 families.
Crop land has also been hit by an outbreak of army-worms and red locusts, destroying swathes of crops and leaving more than 6,000 households hungry. More people than ever are registering for therapeutic feeding programmes to treat malnutrition.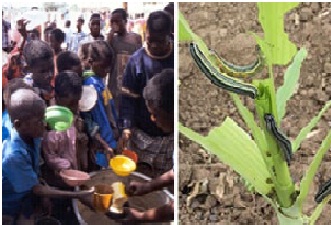 A school feeding programme in Monkey Bay and crops infested with army-worms
 An environmentally-friendly and long-term solution
Islamic Relief's latest project in Malawi – which began in May 2013 – aims to provide vulnerable families in Machinga and Zomba districts with a secure means of earning a living.
Islamic Relief has already constructed three fish ponds in Machinga, stocked with around 3,000 fish, allowing families to farm and sell fish, as well as benefiting from a sustainable source of food.
The ponds are overseen by an elected committee of 60 local people – made up largely of women – and will be harvested twice a year.
Natural sources of water are used to fill the ponds, and organic manure is used to encourage water plants to grow as food for the fish. Using simple methods of farming, the project is training local people to look after and to breed the fish.
Vegetable-growing is also being established to provide a further source of income and nutrition for the communities. Vegetable plots will be set up next to the ponds, nourished by organic manure, and communities will be trained in farming techniques by Malawi's Department of Horticulture.
Around 1,100 people are expected to benefit from the project, which is due to be completed next spring.
Islamic Relief has been working in Malawi since 2006, and plans to build three further ponds in Zomba district.