Life after recent jolts
By Muhammad Haseeb Khalid
Besides fragile buildings, under the trees, on the wet ground and with the company of mosquitoes, we are staying in tents tonight. The whole of Kathmandu has turned into a tent city again after another significant earthquake jolted Nepal on May 12, 2015. Public parks and open spaces are sprung up with temporary shelters. Everyone is too scared to go back home or hotels. "We are blessed that we are safe and can take care of ourselves and others but I am concerned about wounded persons and patients evacuated from hospitals in the wake of today's earthquake," said Head of Mission Umair Hasan leading a discussion inside a tent. "The situation on the ground remains difficult and this latest tragedy has created new challenges for both the locals and humanitarian workers. We need to quantify the risks, look into viable options, navigate the ways and mindful of delivering the effective aid," he urged.
 
Sleepless nights, walking long hours to reach the unreached, fatigue, food shortages in the field – this emergency response is not a job for all and sundry. This is why Disaster Response Teams (DRTs) are trained and equipped with necessary skills to cope with physical and mental stress, so they can deliver effectively and efficiently.
 
In Nepal, life had already been touched by tragedy and another earthquake struck resulted in collapsed buildings, fatally injuring people and snatching away what little hope was left for the future. Islamic Relief is planning to distribute tents to over 5,000 people.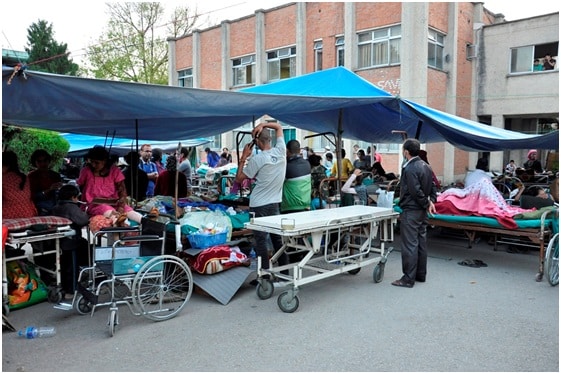 Patients at Tribhuvan University Teaching Hospital, Kathmandu, are seen staying outside following the second earthquake.