Keeping families together in Bangladesh
Natural disasters can have catastrophic effects on entire communities. Homes and livelihoods are destroyed, which can lead to the breakdown of families, as husbands and fathers leave the disaster-stricken area in search of food or employment.
Islamic Relief's disaster response can help to keep families together. Following Cyclone Sidr in 2007, which devastated the lives of millions, our immediate response was to provide food support to families who had lost everything.
This alleviated the short-term struggle for food and income, preventing families getting into debt and keeping them together. It stopped family members migrating elsewhere in search of food or a job – food aid has been shown to help reduce divorce rates within families – and also protected women and girls, who are vulnerable to being abducted during migration and becoming victims of human trafficking.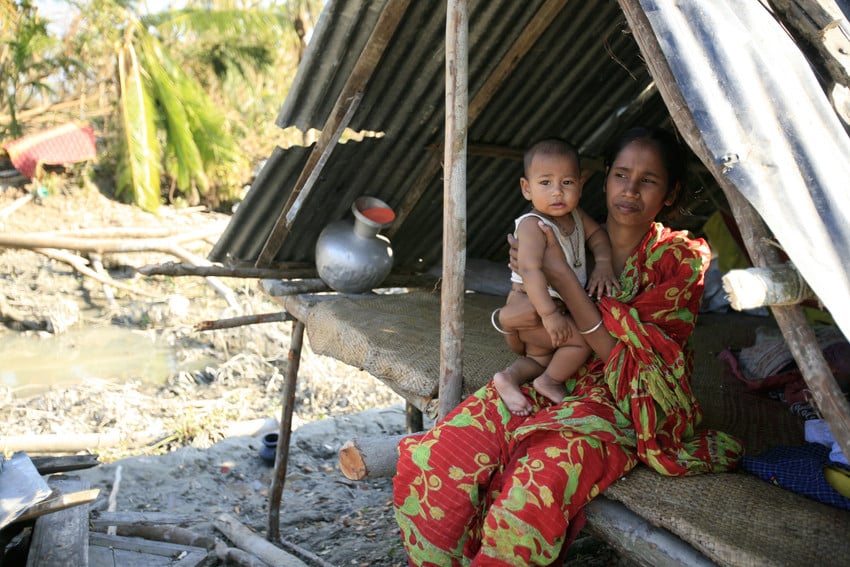 A mother and child shelter after a cyclone in Bangladesh
After the initial disaster response, Islamic Relief began working to help people rebuild sustainable livelihoods in the long-term. 8.5 million people had lost their sources of income, and 1.6 million acres of cropland was damaged.
We gave 45-year-old Aziz Sarder a rickshaw van, which has enabled him to become independent. When he is not using his van to earn money, he rents it to others, raising his income even more – since the cyclone, his monthly income has risen by 2000 takas. Aziz is now confident that he is able to better support his family.
Learning from our experiences in Cyclone Sidr, we are using the same techniques to support families affected by the more recent Cyclone Mahasen, which hit Bangladesh in May last year. We're training people in vocational skills and then, using new mobile technology, transferring instant grants to families to help them set up their new businesses.
To support our work helping people rebuild their livelihoods, keeping families together, please donate to our Livelihoods Projects.