Journey into Syria – Part I
Having volunteered for Islamic Relief for seven years before joining the UK fundraising team three and half years ago, visiting our work in the field and seeing the operation on the ground is an absolute honour and privilege. I've been very fortunate in my time with Islamic Relief to actually see in action the money that all of our hard working volunteers and generous donors raise. I have seen the work we do in several countries at the height of operation, from visiting Pakistan during the biggest floods in its history in 2010, to seeing the tragedy of the East Africa famine in 2011 with my own eyes.  Last year I spent two weeks driving through militant controlled valleys and mountains in Afghanistan to reach the most remote parts of a once beautiful country, now devastated by war.
But when I had the opportunity to visit Syria it was an altogether different proposition.  I had never been in an active warzone before.  The complexities of the political situation and the difficulties I had read about and watched for months, and now years, on the TV suddenly became a reality I would be facing in just a few days.  Although the thought of crossing the border into Syria was a daunting one, what was more difficult for me was the fact that my father had been involved in an unprovoked attack just days before I was due to fly out.
He was in a really bad state, battling to regain his sight in his right eye in hospital. In such a vulnerable state, I didn't have the heart to tell him that I was planning to leave for Syria.  It was only after he had undergone his first successful surgery that I told him – and his response was what gave me the strength to pack my bag and make my way to meet my fellow travellers from Green Lane Mosque in Birmingham.  "The people of Syria need us more then I need you," he told me. "If your trip will lead more support for them, the barakah (blessing) in that work may be the reason for shifaa' (healing) for me."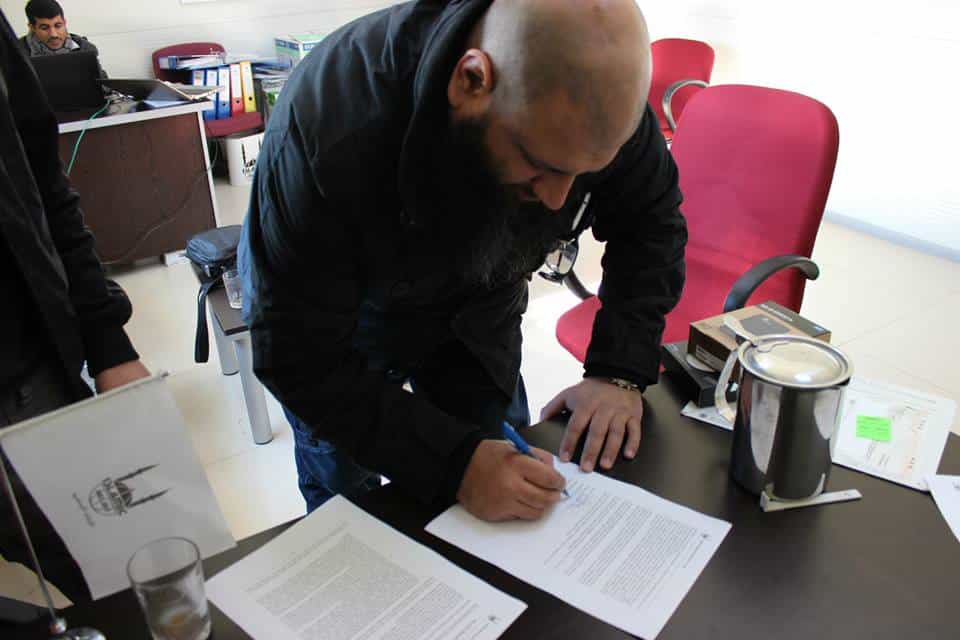 The team from Green Lane Mosque sign the paperwork to enter Syria
Green Lane Mosque is a beacon of light in Birmingham, mashaAllah (as Allah has willed it).  On the blessed 27th night of Ramadan, they raised a phenomenal £60,000 for our Syria appeal.  Having received feedback on the projects they funded, they wanted to visit Syria see first hand what their support had enabled us to do, as well as finding out how else they could support us to meet the needs in future. I met brothers Amir and Yusuf in the boardroom at GLM, and was immediately taken aback by their passion, professionalism and commitment to the cause.  When I tried to explain the security concerns and complexities, Amir told me "my will has been executed; I am ready and prepared for all eventualities."  How do you respond to something like that? Safe to say, I admired their state of mind and mental preparation for this trip.
We landed at Hatay Airport, in the south of Turkey, at 6am.  With the bitter cold against our faces, we made our way through the mountainous Hatay province to Islamic Relief's base in Turkey.  A huge complex has been established on this border town by IHH Humanitarian Relief Foundation, the major Turkish NGO coordinating delivery into Syria, housing most of the major aid agencies from around the world working in Syria. The Islamic Relief team occupies two large offices, but most of the other offices closed. This is because coordination teams from other agencies only drop in intermittently, as and when they are running major campaigns.
This was my first lesson: because Islamic Relief is a worldwide charity, not just a UK-based agency, our offices around the world work continuously throughout the year, including our Syria operation.  Every single day, our teams work to reach the most vulnerable people inside and on the borders of Syria.  The work isn't intermittent and it doesn't take a break!
Follow Zia on Twitter: @zia_salik

IHH's base in Hatay, Turkey, where Islamic Relief's operation has its office