Islamic Relief UK Director shares Insights from the Front Line
Islamic relief UK director was invited to the launch of the ODI's new paper, "Tug-of-War: Ethical decision-making to enable humanitarian access in high-risk environments."
The paper seeks to provoke discussion and reflection among aid workers, about some of the difficult practical and moral questions they face, when trying to reach people in need of assistance in war zones.
Imran participated in a panel discussion, alongside organisations such as the International Committee of the Red Cross, about some of the hard choices that Islamic Relief faces, when making intervention decisions in relation to high-risk environments, such as Syria and Yemen.
"Islamic Relief has always faced difficult ethical decisions when delivering aid to the most needy, as we often work in conflict zones. But in today's climate of bank de-risking and counter-terrorism we are having to jump through more hoops while shouldering larger amounts of risk. By sheer determination and commitment to the most needy, we are making it work." – Imran Madden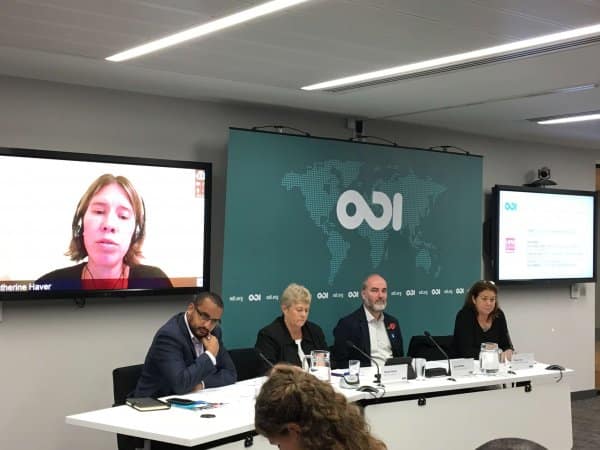 On Tuesday [15th November] Imran shared a panel with Andrew Mitchel MP, and Melanie Ward from International Rescue at the Global Rising Conference.
RISING 16 is examining "the ripple effect" of responding to conflict, whether with action or inaction.  It is bringing together global leaders, practitioners and advocates working for peace. The line-up also includes diplomats Joyce Banda (former President of Malawi), UK Parliamentarians and faith leaders.
Together, they shared brave and creative ideas that challenge us to go beyond conventional thinking and change how we approach threats and confrontations in our societies.
Imran spoke about the need to move beyond providing emergency response to the Syrian Crisis and supporting resilience solutions for refugees living in their neighbouring countries.
He also addressed the need for a special focus on skills development for women [many of whom are now heading households], including supporting their workers' rights and child care needs in order to end practices such as child labour or prostitution.
"The issue of refugees is not a calculator exercise but a matter of our legal, humanitarian and, above all moral commitment to refugees. This is a test for early twentieth century humankind and we are failing on many levels." – Imran Madden