Islamic Relief is urgently procuring life-saving medical supplies to support hospitals in Gaza pushed to breaking point as they treat the victims of recent violence during protests.
Over 50 Palestinians have been killed in Israeli gunfire over the past few days, including an eight-month-old baby, and more than 2,700 people have been injured. The victims have been involved in largely peaceful protests near the Israeli border which have come under fire.   
"There is an urgent need for more ambulances, emergency medical aid and qualified staff to treat patients," says Muneeb Abu-Ghazaleh, Islamic Relief's Head of Mission in Gaza.

"With limited supplies and little support, hospitals are at breaking point and really struggling to cope. We have visited hospitals where treatments are taking place on the floor, administered by medical volunteers rather than fully qualified staff. At least $10m worth of medical aid is needed to ensure that people are properly treated for their wounds."   
The current medical emergency has added to the challenges facing the people of Gaza in the run-up to the holy month of Ramadan. Levels of poverty are increasing, with a lack of employment opportunities and basic services compounded by the effects of a long-term blockade that limits movements of people and goods. Now Gaza's hospitals are overwhelmed, and medical staff are only able to stabilise the majority of those coming in injured as shortages mean patients cannot receive a full course of treatment.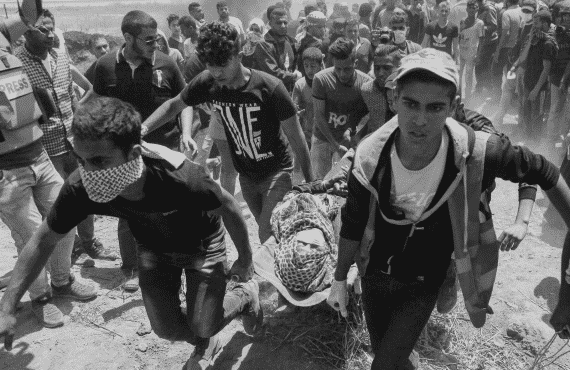 The recent demonstrations in Gaza, which are protected by an international freedom to engage in peaceful protest, are the culmination of frustration at being blockaded from the outside world. The deteriorating humanitarian situation could be eased by lifting the blockade and allowing more essential supplies in.   
The UN has warned that Gaza is on the verge of total collapse, and the UN Secretary-General's condemnation of Israel's response to the protests has been echoed in concerns expressed by the European Union and the UK, French and Canadian governments. A wide range of voices internationally have called for respect to be given for the right to peaceful protest and the principle of proportionality in the use of force.  
"Islamic Relief's usual focus is on children, youth, and the most vulnerable households," says Muneeb Abu-Ghazaleh. "But in an emergency like this we have to prioritise our efforts towards the health of those affected.  

The easing of the blockade could improve the situation dramatically, helping lives to be rebuilt through employment, education and trade. Medical supplies are not covered by the blockade so we can procure them easily but we really need additional funds to do so."