---
Islamic Relief Worldwide became the first Muslim organisation and only the tenth organisation in the world to attain the Core Humanitarian Standard certification last month. This global recognition acknowledges the high quality and effectiveness of Islamic Relief's humanitarian work around the world, as well as its accountability to the communities it serves.
---
Put communities at heart of our response
Islamic Relief's CEO, Naser Haghamed said: "The Core Humanitarian Standard put disaster-affected communities at the heart of a response so that they can effectively become the architects of their own destiny. Islamic Relief is committed to providing high-quality humanitarian assistance to communities and people affected by crises around the world and giving them control over their own destiny."
The certification followed a formal and rigorous audit carried out at Islamic Relief's headquarters in Birmingham and in Ethiopia and Bangladesh, where Islamic Relief carries out humanitarian and development programmes. The two countries were chosen for their representation of different contexts (rural and urban) and breadth of focus areas, including emergency nutrition, livelihoods, disaster risk reduction, climate change and child welfare.
Staff at various levels of the programme were interviewed, as well as the communities served by the projects and various stakeholders, including local government.
---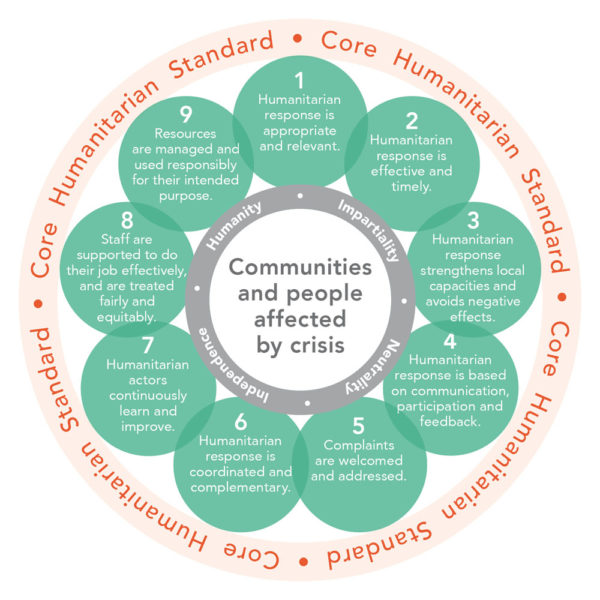 ---
Accountability and transparency
Islamic Relief's commitments to accountability and transparency, community empowerment and resilience, to research, innovation and change, staff training and development and to establishing a strong quality management system for its operations were identified as key strengths in delivering the Core Humanitarian Standard.
We were commended for our dedication to reaching the most vulnerable and marginalised, selected on the basis of need alone, regardless of their race, religion or nationality.  The certification also demonstrates our commitments to providing relevant and appropriate assistance by involving communities and local government in the development of our programmes.
This certification is awarded by Humanitarian Quality Assurance Initiatives (HQAI) which was established in December 2015 in Switzerland to provide quality assurance services in the delivery of humanitarian assistance within the international humanitarian community and more importantly, to bring quality and accountability to affected populations and other stakeholders.
The certification is valid for over four years and Islamic Relief will undergo annual audits and mid-term reviews in order to maintain its certification.
Naser Haghamed explained: "We are delighted to receive this accreditation, which adds much credibility to our programme and reputation within the sector. But we must not be complacent. We remain committed to continually learning and sharing this learning across our country programmes, all with the aim of improving our work around the world and our accountability to those we serve."
---