DONATE SADAQA
can provide a food pack to one family in an emergency
can help provide tools and agricultural support to a farmer to improve their livelihoods
can provide a cash grant to one household for 3 months to purchase essentials
---
DONATE ZAKAT TO EAST AFRICA EMERGENCY
can provide a food pack to one family in an emergency
can help provide tools and agricultural support to a farmer to improve their livelihoods
can provide a cash grant to one household for 3 months to purchase essentials
---
More than 50 million people are facing starvation
Right now, the world stands on the brink of unprecedented famines. Latest reports from the UN suggest acute hunger is alarmingly at a five-year high. 50 million people globally in 46 countries are at imminent risk of famine, experiencing critical hunger, severe levels of food insecurity, and malnutrition.
Countless people are already experiencing famine-like conditions in places like Somalia, Kenya, South Sudan, and Ethiopia. Conflict and violence, climate change, and Covid-19, along with compounded economic shocks are driving the increase of hunger globally.
"They are not a believer who fills their stomach while their neighbour goes hungry."
– Prophet Muhammad ﷺ
---
The world is starving. Answer their call.
More than 10% of the world's population goes to bed hungry every night. 50 million people in 46 countries are teetering on the edge of famine, nearly doubling from 2019 – before the Covid-19 pandemic. The humanitarian needs are higher today than ever before.
25,000 people die of hunger every day. That's one person every 4 seconds, and it's only getting worse. This is a catastrophe and we must act quickly to save lives.
Islamic Relief is on the ground, responding with life-saving support for displaced, host and vulnerable communities facing hunger across the world. We need your immediate help to provide food, water, nutritional support and health services to people who urgently need it.
---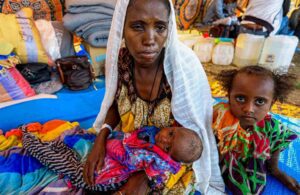 Photo: Ethiopian refugees fleeing from ongoing conflict
---
What's causing the hunger crisis?
There are three main drivers of hunger – conflict, economics, and weather.
In the past few years, severe weather, including the worst drought in 40 years in East Africa, has decimated crops, livestock, and water supplies. Economic instability, made worse by the Covid-19 pandemic, has pushed more and more families into poverty.
However, ongoing conflict and insecurity remain the greatest cause of hunger. And now, in addition to political instability already present in many vulnerable countries, the current crisis in Ukraine is pushing food insecurity to catastrophic levels. Russia and Ukraine supply 80% of East Africa's wheat flour, and 12% of the world's food exports.
The world is starving, with 827 million people projected to be undernourished this year alone. Famine, armed conflict, displacement, political instability, disease, and economic decline have left 274 million people in need of humanitarian aid.
---
Islamic Relief is on the ground now
We are on the ground in every one of these countries, working to deliver aid. Every single day people are dealing with severe hunger, and millions now face widespread famine if nothing is done to help them.
By supporting Islamic Relief, you'll be helping to feed families across the world and fight this global hunger crisis. Help us provide emergency support and work to ensure hunger no more for communities over the long-term. Your support will save lives.
---
How Islamic Relief is supporting people on the brink of famine
Afghanistan: Our teams on the ground have distributed 13,061 food packs to the most vulnerable families in Kabul, Nangarhar, Balkh, Bamiyan, and Kapisa provinces. Qurbani meat distributions to over 10,000 families have also been carried out.
Our Covid-19 response in Afghanistan has reached over 308,514 people, and we continue to raise awareness and support women facing gender-based violence.
Ethiopia: Islamic Relief Ethiopia have been supporting refugees fleeing conflict. Our teams have distributed food to 670 families, and delivered essential items such as bedding, hygiene kits and mosquito nets to over 300 families.
South Sudan: As one of the very few INGOs present in Warrap State, Islamic Relief teams have been delivering a range of water, health, nutrition, food and livelihood support programmes to support vulnerable communities. Having worked in South Sudan for 16 years, Islamic Relief is able to access hard to reach areas, and work collaboratively with other local to ensure a collaborative response.
Yemen: Islamic Relief Yemen is distributing food across a wide area and providing food to 2 million people every month, and have helped over 800,000 people access clean drinking water.
Our teams have also supported health workers 167 health facilities across the country to enable doctors and nurses working to treat wounded, sick and malnourished people. We have also been working to support children through child protection and psycho-social support activities.