Helping refugees rebuild their lives
Difficulties for refugees seeking asylum don't end once they get to the UK.  Receiving around £36 for living expenses whilst their cases are being processed, and not being allowed to work, leaves them with little money to get by.
A weekly bus ticket in London (the cheapest form of public transport) costs £21, leaving an asylum seeker just £2 a day to spend on food and other expenses.
Helping refugees to rebuild their lives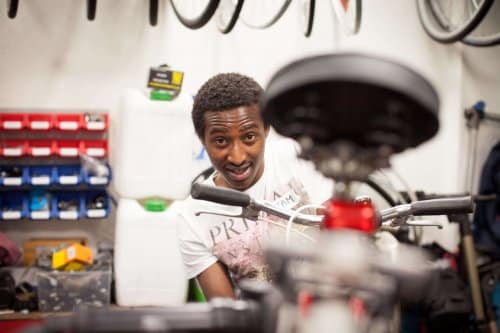 We're supporting the incredible work of The Bike Project through a grant. This year they aim to donate nearly 1,000 bikes to asylum seekers around London as they navigate the difficult asylum process and attempt to rebuild their lives in the UK.
Ensuring long-term financial assistance
In addition to the bikes, this project also provides cycle training to teach basic road awareness as well as essential accessories such as lights (so they can cycle at night), a lock (to keep their bike safe) and a helmet (to keep them safe).
Analysis by the Bike Project indicates that the work they do has a significantly positive impact on refugees. These bikes will provide financial support ensuring that their small allowance is not spent on transport to access vital services.