Haroon's doing it again – #Running4Gaza
During Ramadan 2014 whilst the crisis in Gaza erupted, the headlines were dominated by death and devastation. I felt an itch up my spine, helpless, but with an urge to fundraise and respond to the desperation. I wondered what type of sponsored challenge I could involve myself in, as it needed to surpass the Four Half Marathons I ran in October for Syria last year.
It wasn't until after Ramadan that I decided to act on my impulse, apprehensive however, knowing that no fundraising campaign would be easy post-Ramadan as everyone's pockets are empty after a month of generous giving. But I'm always up for a challenge so I decided to go up one notch and run 5 Half Marathons in the space of 28 days, and I was fortunate enough to find race events to sign up to on 5 consecutive weekends. The ballot for the Royal Parks Half Marathon (one of my chosen 5) had already closed which meant I couldn't get a place, but thank God, Islamic Relief were able to buy a charity running place off Christian Aid.
Alhamdulillah…I was ready to go!! All I needed to do was set myself a fundraising target and to commence training. So I set up my justgiving page, hoping to raise £5000.
"What on Earth have I just done!?" I asked myself. I had just signed away 5 consecutive Sundays; I'd probably miss a wedding or two, maybe end up running a Half Marathon on Eid if it were to fall on 5th October (which it could have), and miss out on all the Football on Sunday afternoons. But Alhamdulillah, a worthy sacrifice for a very worthy cause. Food, water, shelter, and medicine were critically the focus of Islamic Relief's Emergency Appeal and my goal was to ensure that my #Running4Gaza Challenge supported this.
My Challenge:
Sept 28th – Robin Hood Half Marathon (13.1 miles)
Oct 5th – Blenheim Palace Half Marathon (13.1 miles)
Oct 12th – Royal Parks Half Marathon (13.1 miles)
Oct 19th – B'ham Half Marathon (13.1 miles)
Oct 26th – Leicester Half Marathon (13.1 miles)
I started training immediately after Ramadan and had busy regiment running 3 or 4 times a week, along with circuit & Martial Arts training which I was already doing regularly. I commute from Coventry to London daily for work and I do my training in the mornings, so on the days I'm running I'd be up and awake by 05:30 and get to London early, ready to run there by 7:30am before starting work at 9:00. So I really had to get myself motivated as it is so much easier to be lazy and miss training. I was running about 25 miles a week at the peak of training and then eased off the miles in the last 2 weeks before my first race. Alhamdulillah, training was great and I didn't suffer any major injury problems.
As usual the support was great, and the donations are still coming through. My fundraising total currently stands at £3,848 and I am so grateful to everyone who has supported this cause so far. It gives me inspiration and further motivation knowing that people are behind me. On 21st September, the Redditch Gaza Appeal Team, held a Charity Football Tournament and raised £1000 to support me in my mission; a huge boost going in to my first run:


15 Teams from as far as Leeds, Oxford, Coventry, and Worcester turned up to play.
Sept 28th – Robin Hood Half Marathon
Race day was finally here. I must've slept less than 4 hours after getting back to Coventry from #TheCakies Dinner in Bradford after 1am. Hardly the best preparation, but I was wide awake in excitement and hit the road to Nottingham. Unfortunately I didn't have any family or friends to accompany me on this one, but I knew that everyone was with me in spirit so this spurred me on. I'm very competitive and I'm always interested in achieving a personal best. On the day my focus was Gaza and its people who have been tried and tested beyond comprehension. This would be my drive when I am tired and my catalyst when I am struggling. I felt confident knowing that I had trained well, but was a little worried that my lack of sleep would leave me a little lacklustre, but I downed my Red Bull and was off the mark. I got through the first few miles at a good pace and passed mile marker after mile marker, digging deep in to my lungs and focussing hard to ensure I don't burn out too soon. As I got to the latter stages of the race I realised I was in good time and on course for a personal best time, which prompted me to keep on pushing right to the very end. I crossed the finish line with a sprint finish, and looked at my watch instantly, feeling a great sense of achievement at my new personal best. 1 hour, 49 minutes and 56 seconds was my official finishing time; I was totally buzzing! Alhamdulillah. 1 down 4 to go!! Next week's run at Blenheim Palace is a very hilly one so I'm hoping my legs recover soon and are fresh for Sunday. It's a day after Eid so I'll have another challenge of sensible eating; Carbs NOT Cakes!!!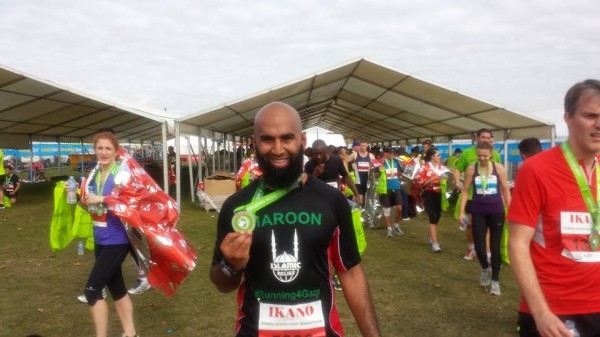 To support Haroon, visit his justgiving page! Also follow him on Twitter: @Haroon_Mota