Gender justice & ending violence against women
It is estimated that 35% of women worldwide have experienced either physical and/or sexual violence from an intimate partner or sexual violence by a non-partner at some point in their lives (WHO, 2014). Violence against women is a violation of human rights and is a form of discrimination against women that results in or is likely to result in physical, sexual, emotional and economic harm to the survivor. Violence against women happens all across different cultures, regions and often taboo to mention in public and seen as issue to be kept private.
In England and Wales, 1 in 4 women will experience violence by an intimate partner in their lifetime (Crime Survey of England and Wales, 2013/14). Two women are killed every week in England and Wales by a current or former partner (ONS, 2015). More and more women from the Muslim community in the UK are reporting and seeking support however more work is needed.
Amirah Foundation provides counselling and support to survivors of domestic violence. A large number of their clients are Muslim women who have fled from an abusive husband or in-laws, found they are homeless, and have immigration issues. Amirah Foundation provides a number of services to survivors to begin the healing process and each intervention is unique to the woman. It's complex and personal because Amirah Foundation understands that to build confidence they need to unlock the potential of these women so they can play an active role in society. A tick-a-box approach will not work.
Islamic Relief UK is supporting Amirah Foundation in the implementation of 'Your Time to Shine'. It is a 12 week program of building the skills, passion, confidence, self-esteem and assertiveness of thirty women who have experienced domestic violence. They are provided the skills and knowledge to remove barriers that prevent their success. The intervention gives back the survivors power and control over their lives, wishes, and dreams after years of having another person – husband or in-laws – strip away or forcefully take away their power within.
Ayesha is currently enrolled to the program; she and her daughter were thrown out by her in-laws after her husband was imprisoned. Ayesha was referred to Amirah Foundation by another woman in the hostel she was sheltering in as she was left homeless. When asked how Amirah Foundation has supported her, she replied, 'they have allowed me to dream again. I suffered a lot in the hands of my in-laws. I lost everything not just a roof over my head but my confidence, my self-belief. After starting this program, I can wake up in the morning and start planning the future of daughter and myself. After completion of this program I want to look for employment in Hair and Beauty. I want to work, be independent and not live in fear again.'
Islamic Relief has a commitment to empower women all across the world, end VAWG and address gender disparities through the promotion of knowledge. Furthermore, through its programs in the UK and abroad we seek to promote women participation to social, economic and political spheres, and acknowledge their contributions in all these areas of life.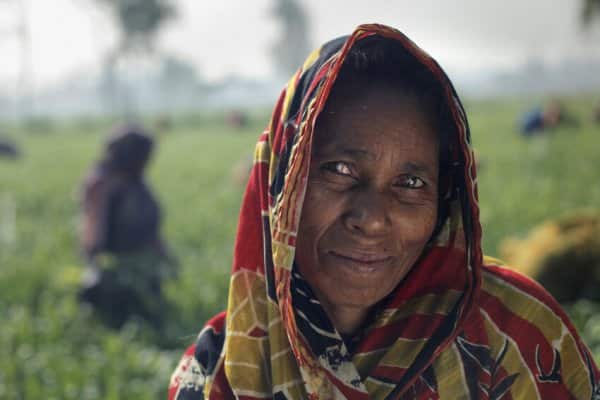 Above: image from our projects in Bagladesh.
On International Womens Day, we are calling for gender justice and the elimination of all forms of violence that prevent women and girls' participation in society. We have made concrete steps to address gender disparities by helping women and girls like Ayesha achieve their ambition. The face of poverty is female as 70% of the world's poor are female. To end poverty and suffering, communities need to be central but additionally, the participation of women and guarantee of their safety and dignity is crucial to create sustainable and transformative change.
Need Help? Contact the National Domestic Violence Helpline: 0808 2000 247 24 (24 hours / 7 days a week) OR if you're based in Birmingham you can also contact the Amirah Foundation: 0121 572 6821