Gardening Hope in Cebu
Lindon Duragos, 38, teaches agricultural education at Bantayan Elementary School, on Bantayan Island in Cebu province.
In the tropical climate of Bantayan, fruit-bearing palms and a diverse range of plants thrive – supporting the island's population of 74,000. Classed as a 'natural wilderness' site, it is protected from logging. However, the demands of the modern world means the school has to work hard to preserve the knowledge and skills required to prevent environmental damage.
As well as learning traditional subjects such as mathematics and English, the school's 331 students at kindergarten and preparatory grades are also taught how to protect the rich environment in which they live.
As well as teaching students about environmental sustainability, the garden gave them the chance to learn valuable skills such as sowing and planting, making fertiliser, and safety procedures like handwashing.
"I teach children about the importance of planting trees," said Lindon, whose father also taught agricultural education. "How this can control the carbon dioxide in our environment, produce oxygen, and keep our environment cool.
"I teach them to love plants, love animals, and treat them like a baby sister or brother. When the children grow up they can use these skills, and it can also provide them with extra money."
Environmental sustainability at the heart of the school
Before the typhoon, the school garden was a special place for many of the students. Previously scooping second prize in the 'Most Beautiful Garden' for Cebu, it netted the school a sewing machine, television and DVD player as well as 7000 pesos (£95 GBP / $160 USD).  The garden shared land with the school's nursery and a recycling scheme, as well as the home of the school goat.
Produce grown on the grounds was used to support sick or malnourished children at the school. It was also sold to the local community, raising funds to buy rice for the school's supplementary feeding programme or essential school equipment.
For Lindon, the damage to the much-loved garden was particularly devastating. "It was terrible. Corrugated iron sheets and garbage covered everything," he said, remembering how parents and the local community came together to clear the garden of debris.
"Everything was destroyed. We will have to start again. It's not too hard on the children, though. They know how to rebuild the garden."
Lindon encourages students to bring in unwanted materials from home for use in the garden – including used tyres, plastic bottles, nets and coconut shells.
"I challenge them to use everything that useable, so there's no wastage at all. It is what we used to do traditionally, but now there is so much more waste."  Even an old washing machine has been re-used as a water container.
The teacher took time to show us his treasured scrap-book of the children in the garden. He found it under the rubble and has been trying to dry it out ever since.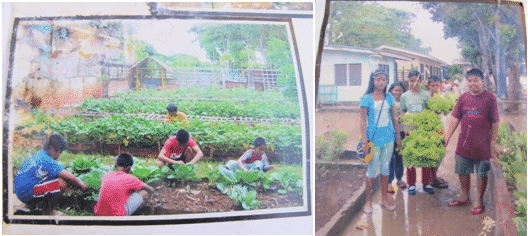 A sustainable future
Islamic Relief has been on the ground in the Philippines since November. Working with a local partner, we are currently focussed on distributing essential aid such as food and water, shelter and tarpaulins as well as other basic items. Already, we have reached over 134,000 people in Bantayan, Leyte and the Camotes Islands.
We also want to assist schools to repair and reconstruct their facilities so they are more resilient to disasters than before. As part of our disaster risk reduction work, we want to support communities in reducing the impact of climate change – which is heightening the frequency and scale of natural disasters. Key to this will be helping local people to protect and preserve their environment so it continues to support their communities in the future.
"It is important, we are dependent upon our plants here," said Lindon, who is passionate about promoting environmental sustainability. "I teach children about climate change and the importance of recycling.  The little things we can do to combat CO2 in the ozone layer and our environment.  It's not only Yolanda, you know, we have a lot of storms here…"
Please help us to support Filipino communities torn apart by the November super storm: donate to our Philippines Typhoon Appeal today.