Work experience for Gazan graduates
Islamic Relief is helping increase food security for vulnerable Gazan families, by providing out-of-work graduates with employment opportunities.
An estimated 1.3 million people in the Occupied Palestinian Territories are unable to afford sufficient food. In the Gaza strip, the average food-insecure family spends 48 per cent of its total income on food – a problem made worse by widespread unemployment. According to the Palestinian Central Bureau of Statistics (PCBS), over 40 per cent of working-age Gazans are unemployed.
Now, a year-long project by Islamic Relief – supported by the Swedish International Development Agency (SIDA) – is providing temporary jobs for 600 recent graduates who have been unable to secure work.
It provides graduates from universities as well as vocational training colleges with temporary work placements at local civil society organisations, companies, workshops and factories.
Placements last for six months, with the graduates earning around £222 for a 22-day working month – as well as gaining vital workplace experience that will help them access employment in future.
Self confidence for Alaa'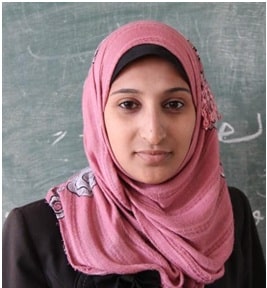 "I studied Arabic Language at college, and today I am teaching Arabic to female students in Gaza," says Alaa' Hiqi, 23.
"When I heard that I was selected for the cash-for-work project, I was extremely happy because I know it is very hard to get – the number of unemployed graduates is huge.
"Through work, I get experience in my field and self-confidence as well. The wage I get helps me pay for the some college fees and also pay some expenses for my family – such as food and other necessities."
 Hope for Hasan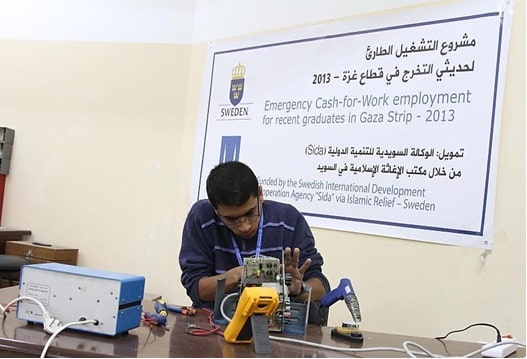 "I studied medical equipment technology in Gaza," said Hasan Emawi, 24, "and I waited a long time for a job opportunity.
"My family's economic situation is difficult.  I wanted to depend on myself like normal people, and get married. This temporary employment gives me a chance, as I got to know more technical issues in my field and benefit from other technicians with more experience and knowledge."
Teaching experience for Omar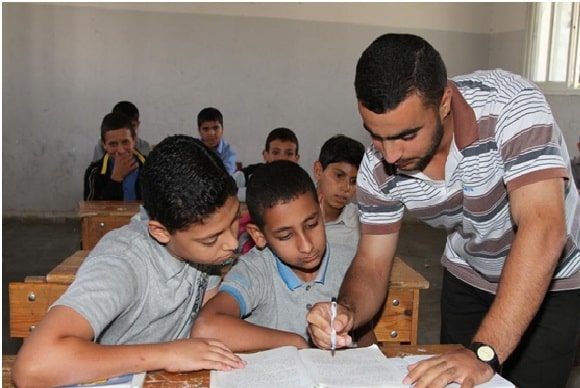 "I am a graduate of Islamic studies," said Omar Dior, 23, "and I received a great opportunity to work in the teaching field – which I love and enjoy.
"I was hoping to get a permanent job opportunity to help my family survive in the difficult economic situation, as we don't have a continuous source of income. But thanks to God, having something is better than staying jobless at home.
"I spend the allowance on my daily expenses and transportation, and give money to my father, who manages the family expenses. I would like to thank Islamic Relief and SIDA for this important project and would like to ask them to continue their cooperation in helping young people and poor families."
 A step forward for Nuha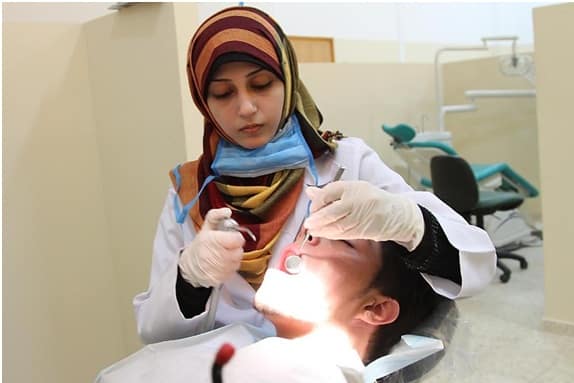 "I studied Dentistry. My only goal in life is to help others through my speciality," said Nuha Abadla, 23. "Today, I am taking the first step toward reaching my goal.
"In the past, I used to feel shy when I asked my father to give me some cash after years of him paying for my education. Now with the job opportunity I received I am able to work. I get an allowance and I help my father in paying for expenses."
Islamic Relief has been working in the Occupied Palestinian Territories for almost twenty years, and has a field office in the West Bank as well as Gaza.