After years of being torn apart by war, people across Afghanistan are still more likely to die from poverty than conflict. As preparation for the withdrawal of foreign troops gathered pace in 2014, we were deeply concerned that significant aid cuts were threatening to derail progress in education, health care, agriculture and women's rights in Afghanistan.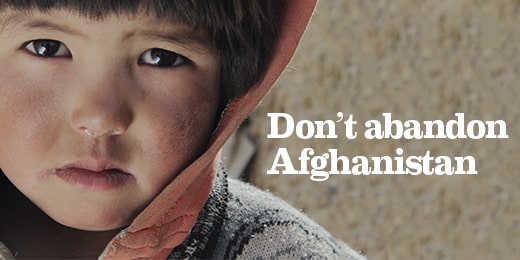 Our 'Don't Abandon Afghanistan campaign' urged the UK Prime Minister to take a lead in rallying international support for Afghanistan as the UK prepared to host a global pledging conference the following autumn.
Our report Afghanistan in Limbo (March, 2014) updated readers on the country's status and made the case for continued humanitarian aid. We then called upon the international community to stand with Afghanistan, petitioning the UK Prime Minister to:
Maintain long-term aid: To sustain aid at a level that enables malnutrition, poverty and infant mortality to be further reduced.
Improve the quality of aid: To focus spending on the most marginalised people in the poorest parts of the country, with particular emphasis on health and education services, agriculture and women's development.
Support aid agencies and the Afghan government: To channel more aid through NGOs with a track record of operating transparently and effectively, while strengthening the capacity of the Afghan government to deliver essential services by helping to professionalise management, devolve power to provinces, reduce bureaucracy and tackle corruption.
Thanks to your support we've helped vulnerable families and communities continue receive the support they so desperately need.
Thank you for standing with us and speaking out to help those in need in Afghanistan