Developing early warning systems in Bangladesh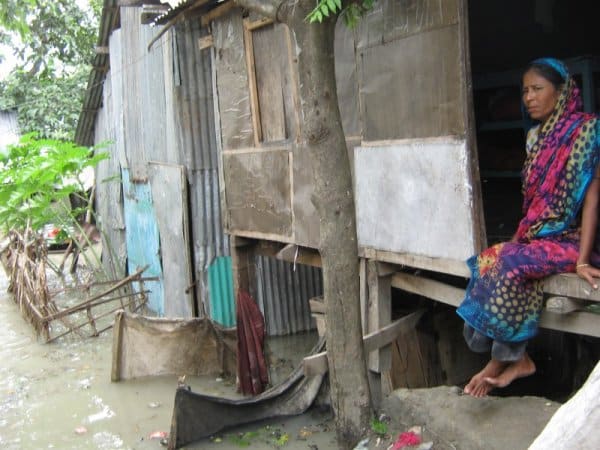 The low-lying country of Bangladesh is particularly prone to natural disasters – especially cyclones and flooding. According to the UNDP, the country experienced a staggering 219 natural disasters between 1980 and 2008. The poorest communities – often hardest hit by disasters – are in the firing line as the effects of climate change threaten to trigger more intense and frequent natural hazards.
Islamic Relief has been working in Bangladesh for more than two decades, responding to disasters and helping communities to protect themselves when they strike. This year, we teamed up with the Bangladesh Water Development Board to develop a better flood warning system. The innovative new system is to include a five-day forecasting model and will see vulnerable people receiving early warnings and flood updates by SMS text.
Better protected schools in Indonesia
Located in the 'ring of fire', Indonesia is amongst the most disaster-prone countries on the planet. It has more active volcanoes than any other country in the world, and is also particularly vulnerable to earthquakes and tsunamis. About one million Indonesians are thought to be affected by disasters every year.
Last year, Islamic Relief enabled three schools in Aceh to better protect their students when disasters occur. Infrastructure vulnerabilities, such as fragile roofing and poor warning signage, were rectified. We also provided school staff, students, parents and members of the community with tailored training to help them to prepare for disasters and to reduce their impact.
Boosting community resilience in Kenya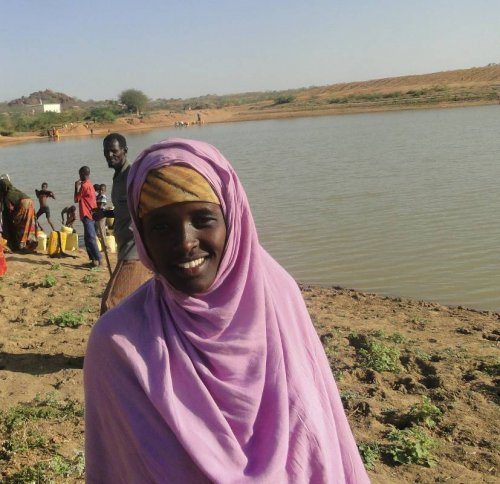 Tens of thousands of people are to benefit from an ambitious project to increase resilience and food security in north eastern Kenya, an area prone to devastating, recurrent drought.
The scheme is seeing 2,000 farming families receiving support to improve their productivity through micro-irrigation, green-house farming, cooperative warehousing as well as training in the latest farming methods.
The project – which began in 2013 – is also providing local people with opportunities to earn a living by improving essential community infrastructure such as water pans and wells. With many families dependent upon livestock for their income and food needs, Islamic Relief is working with local veterinary officers to improve animal health.
In addition, we are training local government staff and members of the community on risk reduction and early warning so they have the skills and knowledge they need to reduce the impact of future disasters and crises.
Sustainable protection from hunger in Malawi
Many families in Malawi – one of the world's poorest countries – face a food crisis exacerbated by drought and flooding. Islamic Relief has been providing a lifeline to poor communities in Machinga and Zomba with our sustainable fish and vegetable-farming project.
Fish ponds and vegetable plots have been set up and are being overseen by community committees – made up mostly of women – to improve resilience to disasters that affect food security. The project promotes the use of natural water sources and organic manure, and includes comprehensive training to enable local people to maintain the facilities as a reliable means by which local people can earn a living and feed their families.
Protecting the environment and livelihoods in Niger
An Islamic Relief project to improve food security by protecting the environment and boosting livelihoods is benefitting more than 10,000 people in Niger.
The Tillabery region is particularly prone to cyclical droughts and desertification, with failed crops fuelling ever-deepening poverty and hunger in an area in which most families depend upon farming. With our support, communities are sustainably diversifying their agricultural activities. We are offering income generation opportunities, irrigating farming land, and providing seeds and essential equipment to enable families to better able to protect themselves from hunger.
Increasingly, environmental protection and climate change adaptation are at the heart of our disaster risk reduction projects.
The project, which is due to complete later this year, encourages local communities to protect the environment upon which their livelihoods depend. Seedling nurseries have been set up, and degraded forests and land are being restored and conserved more effectively.
Strengthening emergency response in Pakistan
Islamic Relief is currently providing relief and assistance to those affected by the recent flooding in Pakistan, a country which has been devastated by numerous disasters in recent years and in which over 50 million people live below the poverty line.
As part of our comprehensive programme to further enhance our capacity to respond effectively to emergencies in Pakistan, we are empowering local communities to play an active role when disasters strike. The programme includes specialist emergency response training for 100 community volunteers, enabling them to provide swift and effective support for relief efforts.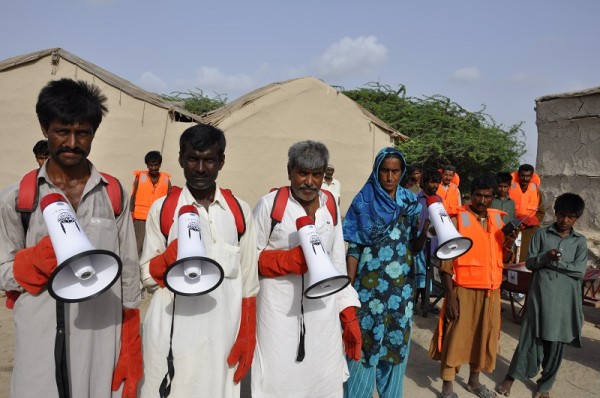 Lasting solutions to Yemen's food crisis
In Yemen – one of the most water-scarce countries in the world – almost half of the population is food insecure. Islamic Relief has been helping vulnerable Yemenis since 1998, and last year launched a far-reaching project to deliver lasting solutions to the crisis.
The £2 GBP programme promotes environmental protection and disaster-risk reduction, including the introduction of fish cultivation and saline-tolerant crops to help protect poor communities from the impact of climate change.
Farming and fishing families are receiving training, cash and other support to help them to improve their incomes and to boost their resilience to disasters such as drought. In addition, local people are being employed to improve essential infrastructure such as irrigation channels and sluice gates.
As well as working with vulnerable communities to strengthen their resilience to disasters, Islamic Relief also delivers vital emergency aid when disasters occur. Donate to our Global Emergency Fund today to help us respond swiftly to disasters as soon as they occur.