CAR – "My life was good…before the fighting"
Selah Adoum, 11, is from Bangui – a city in the Central African Republic (CAR) that has seen unprecedented violence. Selah witnessed his parents being killed before fleeing with other families.
He is now one of over 1,000 unaccompanied children seeking safety in the transit sites in southern Chad. Around 150 orphaned children live in the Gore transit site, which currently accommodates over 4,000 displaced people.
"My life was good when I was in Bangui with my family before the fighting," Selah told us, when we met him in Gore. "I went to school four days a week and life was so good for me."
Today, Selah lives alone in a shelter that he has built using sticks and cloth. He has no mattress or bedding.
"I have no house," he told us. "This is the only place I have to protect me from the sun, and it's where I sleep. I have no mats and blankets, there is no toilet either."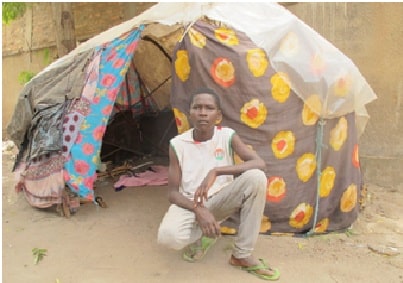 Selah's makeshift shelter
Every morning Selah visits the nearby families that are helping him and the other orphaned children. They give him breakfast and he spends the rest of the day hanging around and playing, as there are no educational facilities in the transit site.
Selah told us that he wishes he could have a small shop so he could make money to support himself. He used to sell things in Bangui. He would also like to go to school, and he misses his favourite subjects – Arabic and French in particular.
Despite the hardships he endures, Selah nurtures the hope of a brighter future and dreams of becoming a teacher.
"All of the people you see here have faced difficult times before coming here. It is difficult, but things will change and get better."
Islamic Relief wants to support vulnerable children like Selah to continue their education, and take part in productive activities that help them build brighter futures. Around 8,000 children in Bangui, CAR, are benefiting from child friendly spaces supported by Islamic Relief through War Child UK.
With your help, we can reach many more – both inside the conflict-torn country and in nearby countries such as Chad. Please donate to the Global Emergencies Fund to support our Central African Republic Crisis Appeal.