Business success in Kenya
Mama Dahaba Salat is 52 years old and mother of 9 children, five boys and 4 girls. Four of her children are in college and the others are working. Mama Dahaba lives in Eldas Sub-county , Wajir County in Kenya. She is the chairlady of the Eldas women's group who are benefit from our micro loan programme, supported by UK Aid Match funding.
In July 2014, Mama Dahaba received a micro credit loan of 35,000Ksh (approximately £250). Together with her savings, she was able to start a cosmetics shop.
"I run a cosmetics shop courtesy of micro credit loan provided by Islamic relief. I am now an entrepreneur here in Eldas, and I am very proud that I can afford something like this shop, even though I am a woman!"  says Mama Dahaba.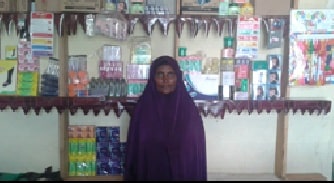 Mama Dahaba tells us that the loan has given her a chance to provide for her close family and well as her extended family. She says she helps her sister and their mother who needs special care because of her old age. The extra money from the business has enabled her to pay for house help to support her old mother's needs.
Prior to receiving the loan, Mama Dahaba and other beneficiaries were trained on basic business management and group leadership skills. These skills have proved very useful as they are now able to manage their businesses effectively and professionally.
"After the training by Islamic Relief, I did my own research and I realized a gap and the need for cosmetics shop. Now my business is making good returns and this has given me the chance to make profit and remit the monthly instalments as expected of me."  Mama Dahaba explains.
Mama Dahabas's cosmetics shop has given the people of Eldas the opportunity to buy a variety of cosmetic products without having to travel to Wajir town which is about 50 km from Eldas town.
She hopes that with the continued microcredit support from Islamic relief, she will eventually be the sole seller of cosmetics product to the whole of Eldas sub-county and even expand her business beyond Wajir County.