Bangladesh blog II – "At this moment, I was to experience it all first-hand"
Saturday 20th December 2014: Climate Adaptation Livelihoods
At 08:30 we were picked up by Helal who drove us to the airport for a local flight to Jessore. Here we would spend the weekend meeting those benefiting from our projects, and observe the intelligent yet simple techniques Islamic Relief has put into place to help the most vulnerable families affected by climate-related disasters.
The enthusiasm and excitement of heading out into the field elevated my spirit. As a volunteer of 10 years, I had always heard stories of those enrolled onto our projects, but never witnessed them for myself. At this moment, I was to experience it all first-hand. As well as looking forward to the field visit, a feeling of anxiety washed over me as I wasn't too sure how I would deal with seeing people live in extreme poverty. As a sensitive person, seeing people struggling or in pain, or with little blessings in comparison to what I have, really tugs on my heart. I prayed to God to give me inner strength and with that, I continued ahead with the day.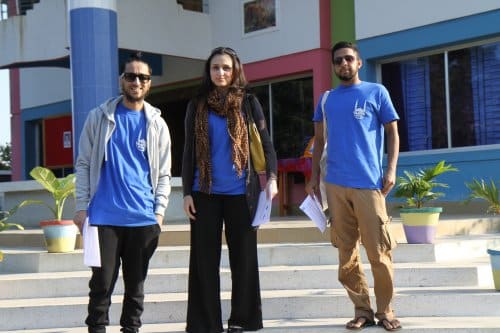 In Jessore, there are 7 districts that have been tremendously supported by UK Aid Match Funding from the Department for International Development. We were to see 2 of these districts called Khulna and Satkhira. We visited a number of families who were being supported by the Livelihoods projects. Examples of these were helping a disabled elderly man set up his own business, buying livestock to earn an income, and providing safe and clean water close to homes. These small yet effective solutions are empowering families and the local communities to live in dignity and enable them to build resilience to climate related disasters.
We met with the Disaster Management Committee (DMC) who shared with us their Community Risk Assessment Process. The implementation of projects, future initiatives and long term strategies showed how a group of local people were planning and preparing themselves and their communities should a disaster strike. We saw a community delivering training themselves, sharing information at a household and communal level, making sure that best practises were encouraged.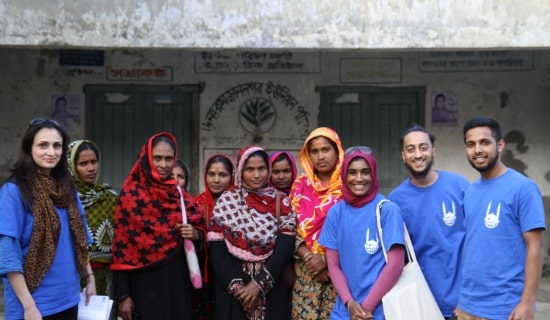 Meeting the beneficiaries was a humbling experience. To witness the voluntary work we do in the UK go a long way, beyond our offices and cities, was not only heart-warming, but rewarding.
That evening, Lotifa and I conversed with Islamic Relief staff over dinner. To my surprise, I learnt the community themselves identified those who would be supported by our projects. This is testimony to how transparent and fair the process within Islamic Relief is, as we know the right people are receiving the support they need and deserve.
– by Madiha Shah