People in Aleppo can't even mourn their dead as condolence gatherings are targeted, says islamic relief aid worker, as he calls for 'immediate action' to protect civilians.
Intensive airstrikes in Aleppo leave 184 dead
Two days of intensive airstrikes in Aleppo has left 184 people dead in the last 48 hours and prompted a desperate plea from one of Islamic Relief Syria's key aid workers on the ground to pause hostilities and allow aid workers to protect civilians.
It's not even possible for people to mourn their dead properly, as condolence gatherings have been targeted. Even Friday prayers were cancelled in Aleppo yesterday as people are too scared to gather together, at the time they need it most,  says Islamic Relief aid worker Ahmed Mahmoud (name changed to protect identity).
 At least eight entire families have been killed
He adds: "Following the breakdown of the latest ceasefire, the situation on the ground inside Aleppo has dramatically worsened. In the last 48 hours there have been hundreds of airstrikes in Aleppo alone, and at least 184 people have been killed. This includes eight-day-old Mustafa Hamdan from Al-Ferdoas, whose death was caused by shrapnel from an airstrike."

"At least eight entire families have been killed, including a nurse, a midwife and their children. Water is out completely. There are other water sources from wells, but these are mostly shallow and the water is unsafe for consumption. People can't mourn their dead, as it's impossible to gather for condolences, these gatherings have been targets of air strikes. Islamic Relief is on the ground right now as this catastrophe is unfolding. We need those who are in a position of influence to take immediate action to protect innocent civilians and to allow the safe passage of vital aid, food and medical supplies. We are currently unable to deliver this vital aid due to nearly 300,000 people in Eastern Aleppo being completely besieged."
Our work inside Syria continues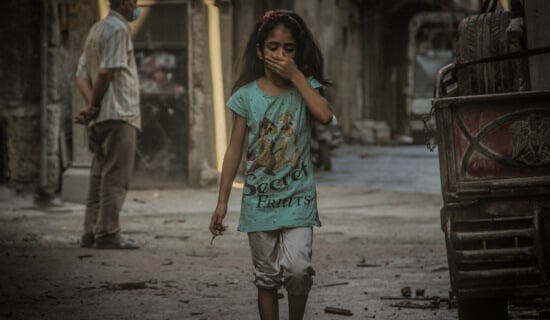 Please donate to our Syria appeal, and with your support we can provide emergency relief to those in need.