Aid efforts increased amid escalating assault on Aleppo
Islamic Relief is providing emergency aid to tens of thousands of displaced people, who fled the escalating government assault on Aleppo, at the weekend, and is preparing to respond to a potential humanitarian catastrophe, if supplies are cut to the 300,000 people living in the opposition controlled areas of Aleppo city.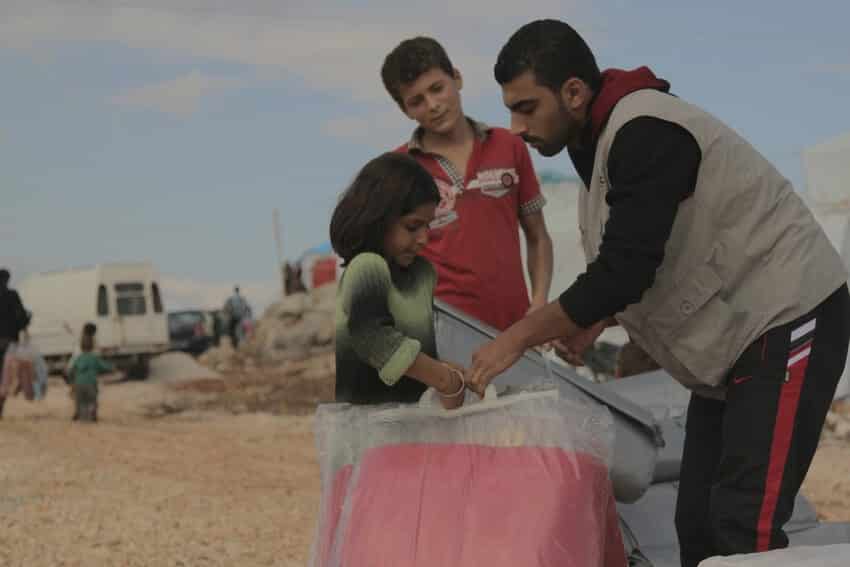 We are distributing winter coats, boots and clothing and emergency food rations for over 12,000 people near the Turkey border and have distributed three containers of vital medical supplies for hospitals in Aleppo city.
"There is a huge need for warm clothing, food and water among the displaced people near the Turkey border right now and our teams are responding there as we speak," said Imran Madden, Islamic Relief's UK Director. "But we have to be one step ahead. If the bombing and airstrikes continue, the number of displaced could surpass 100,000 and main supply routes to Aleppo could be cut. We could have a massive humanitarian disaster on our hands and we have to act fast."
An Islamic Relief team is providing food to newly displaced people in A'zaz City and is identifying other areas where people are fleeing the fighting.
On Friday, we were one of the first humanitarian organisations to respond by mobilising three containers of medical supplies urgently needed for the overcrowded hospitals in Aleppo City treating the huge numbers of injured people following intensified bombings and airstrikes.
"The humanitarian needs are massive near the Turkey borders and we are mobilising all the support we can get in terms of food, clothing, health care, water and sanitation. And we are racing against time to get much needed aid in locations that could be totally out of reach in the near future," adds Imran Madden.
Lack of fuel is also a huge concern as the main access route for fuel to all opposition areas in the north of the country is now cut.
"We urgently call on all parties to the conflict to allow humanitarian aid to all locations and to stop the indiscriminate bombing and shelling of civilians and their homes and schools," says Imran Madden.
The attacks on Aleppo came just days after a peace conference was suspended in Geneva and international donors pledged over $10 billion to support Syrian refugees and displaced people in London.
"There can never be a solution to the Syrian conflict while warring factions are flouting international law by bombing innocent civilians and denying access to urgently needed aid," adds Imran Madden. "The Syrian people have suffered enough violence, trauma and misery. Enough is enough."