A brighter future for Rashid
Muhammad Rashid from Pakistan, was aged just 12 when he joined our orphans sponsorship programme. For the next decade, Rashid received regular support from Islamic Relief to help him meet his basic needs, and also helped him to continue going to school.
The scheme provided a lifeline for Rashid's mother, who had been struggling to provide for her son since his father died. Her eldest son died after, leaving her grandson in her care. Working as a domestic maid, things were very tough for Rashid's mother.
The family of three live in a village near the capital city, Islamabad. Their rented one-room home has no kitchen or wash-room. There is no gas supply, and they must fetch their water from a public, communal tap.
With his sponsorship, Rashid has been able to continue his studies, despite the family's poverty. A bright student, he is in the third year of his electrical engineering degree, at a college just 20 minutes' walk from the family home.
He spends his evenings helping his nephew, Majid with his schoolwork, and hopes to be able to save some money to buy a computer which he and Majid can use for their studies.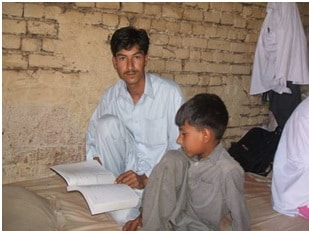 Rashid wants to become an engineer in future, and, with the  support of his big-hearted donor, is now closer than ever to his  dream of a brighter future.
Rashid is one of 43,000 orphans that we sponsor around the globe. You can brighten the future of more children like Rashid, by sponsoring an orphan today!