This month we launched a ground-breaking campaign calling on the British public to help put an end to violence against women and girls worldwide.
The campaign, fronted by ambassadors from across the Muslim community, calls on all of us to #HonourHer.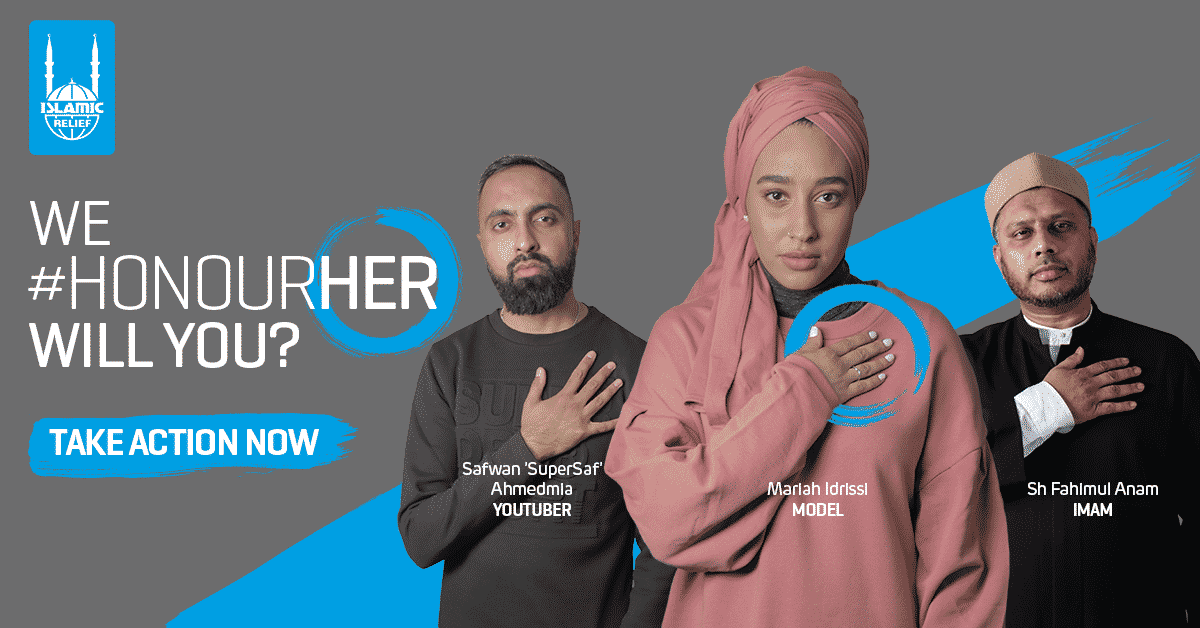 Find out why our ambassadors are honouring women and girls worldwide:
1. Mariah Idrissi – First hijab-wearing model to appear in multinational fashion campaign
"As a woman I feel that it's my responsibility to ensure that women are protected all over the world, whether they are Muslim, non-Muslim, black or white. Growing up in the UK, seeing and hearing these stories is heart-breaking. In 2018 it's no longer acceptable. It's time we break through taboos and start opening conversations within our communities. We need to listen to each other, educate each other and most importantly support each other."
Honoured to be involved in this powerful campaign stressing the importance of protecting and honouring women of all faiths and backgrounds. @IslamicReliefUK #HonourHer https://t.co/ACX09eO1xn pic.twitter.com/xmBxutDaPC

— Mariah Idrissi 🇬🇧 (@MariahIdrissi) April 5, 2018
 2. Safwan 'SuperSaf' Ahmedmia – Largest YouTube tech blogger in the UK
"I believe there is a misconception about Islam, about Muslim men and about how they treat women. And although this might be in some cultures it's definitely has nothing to do with Islam. I think for people who have such misconceptions or who have been taught to treat woman unjustly need to break out of this mindset. This campaign is sending out a powerful message and it's important for everybody to make a stand and say that this is not OK and that it never will be. As a Muslim I've always been taught to respect and honour women. I have and always will honour women and I believe everyone else should too."
Proud to be working with the charity @IslamicReliefUK to help end violence against women & girls worldwide and honour them. #HonourHer https://t.co/qFlQsy0xdp
— Safwan Ahmedmia (@SuperSaf) April 4, 2018
3. Shaykh Fahimul Anam – British Imam and Scholar
"Islam is very clear on protecting and honouring women. God Almighty says in the second chapter of the Quran that men and women are garments for each other meaning He commands us to protect the honour of women. We, the imams and faith leaders, have a very important role to create awareness and work collectively with the community to talk against wrong practices such as violence and abuse against women and girls. I applaud this campaign by Islamic Relief to stand against violence and injustices, particularly against women and girls."
4. Dr. Myriam Francois – Writer, Broadcaster and Academic
"As a journalist I've seen the impact of VAWG all across the globe. What's clear is that in situations of conflict women and girls often pay the highest price; whether it's rape as a weapon of war or domestic violence. I would hope our religion would be a light in these situations and it's a religion that pushes forward love, compassion and empathy for the weakest members of society. I think it's important for a charity like Islamic Relief to challenge head on some of the enduring cultural assumptions that allow violence against women and girls to be perpetuated."
5. Imam Abdul Qayyum – Chief Imam of East London Mosque
"To commit any kind of violence, particularly towards women and girls who are in our protection, is a type of injustice (zulm). In the hadith Qudsi we are reminded that "Allah Almighty said: O my servants, I have forbidden injustice for myself and I have forbidden it among you, so do not oppress one another…" [Muslim]. Those who commit such acts will be answerable in the court of Allah as an oppressor. I am very proud and happy to be a part of this campaign to help end violence against women and girls."
6. Harun Rashid Khan – Secretary General of the Muslim Council of Britain
"I feel it's really important as someone in my position to speak quite strongly and openly against this kind of behaviour. From a personal perspective, I have three daughters and I am concerned for their safety and their future. I would want the same kind of fairness and equal treatment towards them when they are growing up and for their future life and for them not to face any kind of threats or violence. If I would want that for them, I should want that for everybody."
7. Shelina Janmohamed – Author of 'Generation M' and 'Love in a Headscarf'
"One of my favourite verses in the Qur'an says that men and women are created from a single soul; that means we love each other, we nurture each other, we support each other and we protect each other. I encourage you whether you are Muslim or not, as a human being and as a believer to stand up for what is right to put an end to fear, oppression and injustice [for all women and girls]."
Why I'm standing up to challenge violence against women and girls and why you should too. Please retweet to raise awareness #HonourHer @IslamicReliefUK https://t.co/7fZMeD3i2C
— Shelina Janmohamed (@loveinheadscarf) April 19, 2018
8. Zain Bhikha – International Nasheed Artist
"Women and girls around the world are suffering. This isn't just a problem for those that directly experience violence. The health and happiness of our children, our families and communities are in jeopardy when we allow women and girls to be beaten and abused. The solutions start with us. We need to work together, men and women, to end violence against women and girls in all its forms."
9. Shaykha Selina Begum Ali – Islamic Scholar
"I am supporting this campaign as a female Muslim scholar. I have access to many young women and girls and I am trying to empower them to take responsibility and support others. I think generally as a community we are lacking discussion [around violence against women and girls] and hopefully this campaign will be one the ways for people to discuss ways to go forward in supporting and protecting women and girls inshaAllah." 
We'd like to say a big thank you to all our incredible ambassadors who are helping us to fight for change on such an important issue. With female genital mutilation and cutting (FGM/C), early/forced marriage, human trafficking, so-called "honour killings" and domestic violence affecting millions of girls worldwide, the time for change is now.
So, as we stand up and declare that we honour women, will you do the same?
Say no to violence against women and girls and #HonourHer now.