20 years of Fairtrade & new IR fair trade shop
2014 marks 20 years since the beginning of the international Fairtrade movement. Fairtrade is about better prices, good working conditions and fair terms of trade for farmers and workers. It's about supporting the development of thriving farming and worker communities that have more control over their futures and protecting the environment in which they live and work. It is an opportunity for people to connect with the people who grow the produce that we all depend on.
At Islamic Relief, we strongly believe in justice in work and trade, and strive to always give those we work with dignity and aim to make individuals self-sufficient.
Starzeus Mcghee, writes about a brand new Fairtrade Islamic Relief shop soon opening in Lower Marsh, Waterloo London, where he is shop manager:
"Our new soon to open fair-trade shop fully supports the struggle of ensuring that our brothers and sisters in developing countries receive a fair wage, a safe workplace and a wide range of employment benefits.
Our aim is to eradicate dependency and enable those we serve to become self-sustained by offering them training, courses and resources to become self-employed. Many people across the globe have benefitted from these projects and in turn, opened their own businesses which produce and trade many varied, interesting and beautiful products. Our new  shop will stock a range of fair-trade products, and include a number of products from individuals in the poorest parts of the world who have been able to create a better life for themselves through your hearty donations and out projects.
 One example is the work of Huda. Huda is a young ambitious hand­icapped girl who works in her own small shop which was set up by the support of the Islamic Relief. She produces and sells her own embroideries. Huda works to support her family which consists of ten individuals, three of them are handicapped.
Huda works very hard to participate in the local exhibitions and she hopes that her products reach all over the world to prove that she can face the tough life circumstances that she lives, and to prove the success she has achieved despite of her paralysis.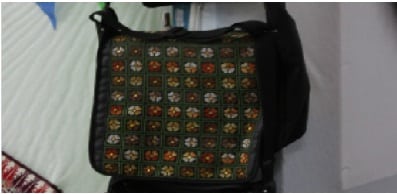 A bag created by Huda
Our future goals in ensuring that the fair-trade principles are active and implemented are:
To give all of those we work with not just a fair wage but also a safe and clean place to workØ  To continue to offer our employees the opportunity for personal development by offering training and courses to boost their skills set.
To give recognition to those we serve and the beautiful products they have made
To support, through trade, other organisations that are an active supporter of fair-trade
Please join the universal movement of supporting fair-trade, your small changes will make a great impact to farmers and traders in developing countries. Even something as little as replacing your habit of buying a regular chocolate bar to a fair-trade certified chocolate bar is a great start. So we welcome you to join the fair-trade family, let's ensure those hardworking individuals in developing countries get the wage that they deserve and eradicate poverty through trade."
Keep an eye out for more information about our new shop, soon to open insha'Allah!